November 2017


It has been a long time since I have communicated. I have been traveling.


Colombia was an amazing trip. Due to the country's mountain ranges, the scenery and cultures are very distinct. The citizens, who have gone through decades of violence due to the drug cartels, are friendly and curious. Colombia is definitely worth a visit.


The Black Canyon of the Gunnison National Park has been on my bucket list for a long time. Since it is located in Western Colorado, it is not an easy destination to reach. The sheer walls and startling depths into the canyon are impressive, but not overwhelming. One can view this treasure from the top or way below on the Gunnison River. The boat trip is run by the Park.



An excursion to the South (Mississippi and Louisiana) is where I discovered Mardi Gras World, where the colorful parade floats are made each year. This is a privately runned business, which has enormous warehouse scattered throughout the Mississippi riverfront in New Orleans. It is amazing what a float artist can do with Styrofoam and paper mache!

Though I am no longer displaying my work at art shows, I wanted to tell you that I will be teaching a FREE photography class at Saguaro National Park East (Old Spanish Trail) on Saturday, December 16, 2 – 4 pm.






February 2017

Allan just came back from a "Starry Nights" Arizona Highways Photo Workshop weekend. The purpose was to learn the best time lapse techniques for night time photography and star trails. After two previous weekends of rainfalls and cloudy skies, I begged off. But, Allan, forever the photo geek, soldiered forward. He had a great time, but he did admit to being close to hyperthermia as he stood in the desert, with every piece of clothing he had brought, waiting for "the" shot.

Here are some of those pictures.





But, the real reason for this communication is to tell you about Allan's truly last art show. He will be at the Spring Festival of Arts at the Oro Valley Market Place (12155 North Oracle Road, Oro Valley, Tucson) on Saturday, February 25th (10 - 5) and Sunday, February 26th (10 - 4). Since this is his swan (I do love birds.) song, his displayed art will be reduced between 50% and 75%. And, you can always try to negotiate. (Don't tell Allan that I told you.) Max and I enjoyed our blog. But, with Max gone, and I, Bonita, getting a little long in the whiskers, I convinced Allan it should be his final rodeo.

Thank you for your patronage and friendship. Allan wouldn't have had such a grand time without you!





September 2016

It has been awhile since I have been able to communicate. Allan and I have been very busy recuperating from two surgeries and still have one to go. And, we sold our house, moved into a rental, and are now in the process of renovating our future home.

Before we did all of the above, we went on an amazing early summer road trip. But, 3200 + miles, not including the plane trip, was a bit too much for me. I know, stop meowing.

One visit was to the Rocky Mountain National Park in early June. Allan had the opportunity to participate in a great evening photo shoot with a local professional photographer.

Here are some of the results from that session.




Bear Lake



Rapids


Elk In Full Velvet Antlers

Unfortunately Allan has decided not to do art shows this year. But, he will be offering individual/couple photo safaris. They will be private and customized, so you can learn how to use your camera to its fullest potential. Then you can have some serious fun with all this learning, when Allan will take you to a local landscape site to try out your new techniques. We will post all the details in a later blog.




*****************************************************************************************************

June 2016


Due to moving, upcoming surgery, and travel, Allan and I are not going to be "blog" oriented for the next few months. If we have time to share some adventures, we will. But, life is "up in the air" right now, so please tolerate our lack of communication. We will be back!






Have a wonderful Summer!


********************************************************************************************************


May 2016





Allan and I went to Tucson's Desert Museum, which comprises of 98 acres of Sonoran Desert that have been developed and curated into 16 gardens containing 50,000 plants and is the home to over 230 desert creatures. Of course, Allan went off on his quest for the "perfect" picture, while I cruised through the outdoor educational exhibits.




And, then I saw the most adorable Bighorn lamb, who had just been born 5 days ago! I texted Allan immediately to hurry over, while I viewed this very nimble creature climb up the rocks with no help at all from his parents. This lamb is the Desert Museum's seventh successful Bighorn birth in the national Sustainable Species Program organized by the American Zoological Society.




Immediately after this lamb was born, he was capable of walking on his own. By the time he is fully grown (probably around 6 feet long and weighing around 300 pounds), he will be able to leap from one perilous rock ledge to another and scramble up mountain slopes at 15 miles an hour, while clocking in at 30 miles an hour on level ground.




These Bighorn sheep are most active during the day, live mainly on grasses, live in separate ram and ewe barns until uniting during the mating season, and are wary of their predators - mountain lions, coyotes, and bobcats.


Enjoy the darling baby pictures!

********************************************************************************************************

April 2016

Southern Arizona Ghost Towns / Part 2

So we could maintain our energy, in order to continue our ghost town tour the next day, we booked an Airbnb "Mountain Top Casita" in Rio Rico. The panoramic views and perfectly appointed lodging made our evening so purrfectly restful. In the morning we zipped down the hill to the Arizona Highways recently reviewed Nickel Diner (www.nickeldinner.com) and thoroughly enjoyed a delicious breakfast in a funky and friendly atmosphere.

We drove south to Nogales, where we picked up Highway 82, before turning on to Duquesne Road and a variety of other dirt roads (bumpy and not so bumpy), to hopefully discover the remnants of the border mining towns of Harshaw, Mowry, Washington Camp, and Duquesne.

After driving through some amazing vast open ranch scenery in San Rafael Valley, where Pancho Villa and his men rustled cattle in 1910, we arrived in Lochiel. This town, which was found in the late 1870s and was mostly abandoned by 1986, is right on the United States/Mexico border. The town was settled by local Mexican settlers and named La Noria (translation: wheel drawn well).




In 1884 a rancher, Colin Cameron, renamed the community Lochiel, due to his Scottish clan heritage, though the largely Mexican part of town continued to use the original name.




At its peak, 400 residents worked in the smelter, mines, one of the 5 stores, 3 saloons, brewery, butcher shop, bakery, livery stables, or the boarding house. Today a one room schoolhouse, a teacherage, an adobe church, and an US Customs station still stand. Annually, generations of one family still return for a reunion.




After a hard day of dusty sightseeing, I diligently brushed my fur to a glossy shine and headed to Tubac for a delicious dinner (fish, of course) on the outdoor patio at Shelby's (www.shelbysbistro.com). As my favorite cowgirl, Dale Evans, always said "It's the way you ride the trail that counts!"



***********************************************************************************************************


March 2016

As the jeep bounced up down the washboard dirt road, I couldn't believe that Allan had conned me into going another one of his photo adventures. We were on the beginning of our self guided Santa Cruz County ghost town tour. Today's destination was Ruby, which was the largest mining camp in Southwest Arizona.




To reach our destination, we zipped down South on I-19 and took Exit 48, to head toward the funky community of Arivaca, which is definitely worth a meal stop. Large cattle ranches dominate the scenery and the road is smooth. But, after passing through this town, you better have good springs or an ATV to enjoy the next 15 miles.




Ruby is a deserted mining town, which started operations in the 1870s and was abandoned in 1940. At its peak , there were 300 miners and 1,200 residents. When the post office was established in 1910, the mine boss's wife named the town. Today, Ruby is owned by a group of families, who are interested in maintaining the remaining buildings and grounds.

We signed in with Ruby's caregiver, shelled over $12 (No, they didn't charge me.), learned some town history, and received a detailed map.




Allan spent 3.5 hours wandering around photographing crumbling buildings, deserted mines, authentic outhouses (Of course, I used one.), rusty vehicles, and unique metal gravestones.
I spent my time hiking to the beach (seriously) and fishing off the 2 lakes.




You can continue on Ruby Road to Pena Blanca Lake and then Nogales, but due to poor road maintenance and many curves, it is wiser to backtrack. Happy bumpy roads to you!


******************************************************************************************************

February 2016

Allan is going to give a photography talk this month in Tucson.** He was fretting over what he should say and I, the cat, came up with a purrfect solution. How about discussing his photography challenges in trying to take "the" picture while on location? Below is a meow review.

2014 Moab, Utah
We decided that mid-April would be a great time to photograph the spectacular scenery of Arches and Canyonlands National Parks. Our presumption was that we would be there before all the tourists arrived. As we entered the town, we noticed a jillion Jeeps. It was Jeep Safari Week. Oh well, the Jeepsters would be off tooling the backroads. No problem?!

We settled in early for the night. Thus, Allan could arise at 4am in order to drive 40 miles, so that he would be ready to shoot the sunrise through the Mesa Arch in the Canyonlands. Oh, during the night, the temperature had dropped 30 degrees. It was now snowing heavily. I pulled the covers over my head, as he took off.

Allan called me on his way back to Moab and recounted his adventure. When he drove into Arch's designated parking, he was shocked to see it was almost full. As he hiked up, he saw a crowd in the distance. It turned out to be the Brooklyn Camera Club on a photo outing - all 40 of them! After many photography newbies walked in front of his positioned tripod or asked for camera advice, he was finally able to get "the" shots and then scurried back to defrost. Such is life.....






**For more exciting adventures, come to the Oro Valley Public Library (1305 West Naranja Drive/ SE corner of West Naranja Drive and North La Canada Drive) on February 8th, 2 - 4. Bring your questions, not your cameras.


********************************************************************************************************


January 2016

At Christmastime , off we went to visit Allan's grandson in the Washington DC area. Though we were busy with holiday festivities, there were 2 outings which I thought I you might be interested in.

National Air and Space Museum




Grandson and the Astronaut


This amazing Smithsonian facility, which is next to Dulles Airport in Virginia, has two large hangars which display thousands of aviation and space artifacts literally hanging from the rafters for your viewing. Though an actual Concorde and the Discovery space shuttle demand your immediate attention, there are many other planes from the beginning of aviation to the present.






There is a workshop area where you can watch the progress of a "retired" aircraft being restored to its past glory. From the observation tower you watch the "big birds" land at Dulles The parking charge is $15, but admission is free.



Holidays at the White House 2015

Anyone can visit the White House at Christmas, you just have to make reservations through your Congressperson or Senator. The request is needs to be made in September. You have to fill out a personal clearance form for security purposes and then you keep your fingers crossed that your request will be chosen. (Yes, we had some clout. How else you do think a cat with no ID could get in?)

All the decorating is done by professional designers and volunteers, who also have to be vetted and chosen by a lottery system. Their final efforts are extraordinary. After going through the four Secret Service checkpoints (You can only bring a cell phone in for picture taking, nothing else), you walk into the East Colonnade (hallway), which has a jillion snowflakes, from each state, hanging from the ceiling.






Bo and Sunny, the Obamas' Portuguese Water Dogs, have their own holiday display which are complete with yellow tennis ball Christmas trees.






Looking out the windows, with smiling snowmen scattered on the lawn, you can see the Washington Monument in the distance.






From there you go on to view beautiful holiday displays and trees in the Library, the China Room, East Room, Green Room, Blue Room, Red Room, the State Dining room, and have a picture taken of you in front of the Oval Office. (I think humans could be a little more creative in naming the rooms, don't you?)







Oh, I took the pictures, not Allan. Cheers.



**********************************************************************************************************


December 2015







Allan and I were ready to be in the holiday spirit. Since Southern Arizona isn't noted for really cold weather and snow, we decided to meander up to Phoenix and check out the Sonoran Light and Las Noches de las Luminarias exhibits at the Desert Botanical Garden in order to gain the proper mood.



-----------------------------------------------------------------------------------------------------------------------







British illumination artist, Bruce Munro, showcases the Sonoran Desert with 8 large scale, light based installations using hundreds of miles of glowing fiber optics scattered though out the garden's property. (It took his team a month to set it up.) These displays, along with 8,000 glowing luminarias (lanterns) , strands of white lights everywhere, Mariachi bands, carolers, hand bell ensembles, and the whiff of hot chocolate definitely created the mood we were seeking. (www.dbg.org/events)






We wish you a Warm and Cuddly Holiday Season and the Best of the New Year!!!!




********************************************************************************************************

November 2015

Allan announced that we were taking a road trip to Big Bend National Park. I was immediately suspicious. Who had ever heard of it? After some quick "Googling", I discovered that it was located in very West Texas, on the Rio Grande, literally a stone's throw to Mexico. It is one of the largest national parks in the contiguous 48 states (the size of Rhode Island) and one of the least visited (300,000 people a year). From Tucson, you zip through New Mexico, head east out of El Paso, and then go straight south at Alpine - only 650 miles one way.



Sunrise's in this area are magnificient.



Except for staying at the Chisos Mountain Lodge in the park, which is a bit too isolated for me, housing is a bit dicey, but I found the perfect place. Terlingua Ghost Town! It is only 15 minutes from the national park and 10 miles to the equally interesting Big Bend Ranch State Park. We rented a stationary 1971 Airstream trailer, which our delightful hosts Sam and Dani have refurbished. (www.retrorents.com). There is even a separate bath house located on the property.




Buckwheat, the greeter at Retro Rentals


It even has an additional bath house, which this modest cat prefers. Besides the peaceful vistas, the totally dark skies (You can't believe all the stars that you will see.), this Texas registered ghost town has the tastefully renovated Starlight Theater, a really good restaurant and music center, and the very tempting Terlingua Trading Company.





Local cemetary The Starlight Theater/Bar/Restaurant


In the 3 days that we were in the Big Bend area, we did a lot of driving. The state park has a scenic road with lots of pull-offs and interesting slot canyons to explore. The national park is a combination of the desert, the Chisos mountains (It is much cooler.), and the Rio Grande. You can legally visit Mexico by taking a boat across the river to the town of Boquillas. Be sure to bring your passport!



Between October and January is the best time weather wise to visit and really enjoy hiking, biking, driving the back dirt roads, birding, and camping. Remember water (Bring lots of it!) and gas (Fill up wherever you can.), since they are scare commodities.





Views from Chisos Mountains


And, y'all need to attend the Terlingua Chili Cookoff (http://www.abowlofred.com/events.com) in November next year, where you will be well fed and totally entertained by the local and visiting characters.




*************************************************************************************************************************************




October 2015

Our last day in Florida found us in Orlando, with a few hours to sightsee, before we caught a plane home. Allan was being a bit grumpy. OK, he wanted to go to Disney World. But, since mice management discriminates against cat guests, I refused to be dumped at the airport, while he went off to enjoy himself. We "compromised" by going to the Harry P. Leu Gardens.





This tropical, 50 acre, botanical wonderland makes you feel that you have just step back into "Old, Genteel Florida". The southern charm is everywhere -- ancient oaks dripping with hanging moss, flowering magnolia trees (well, at least in the Spring), the traditional plantation home, the Rowena Lake vistas, the manicured lawns, the specialty gardens, three miles of winding flora trails.




The original house had been built in 1858. Previous owners included a silent movie actress and a notorious sheriff, who was later murdered. Mr. Leu, who was a prosperous business man and horticultural enthusiast, purchased the Orlando property in 1936. He and his wife spent 25 years travelling extensively to accumulated the 40 different plant collections and 8,000 plant species, which are displayed today. The Gardens are listed on the National Register of Historic Places.

And , Not a Mickey Mouse to be seen.......










****************************************************************************************


September 2015

While we were in Florida, Allan and I decided to seek out tropical flowers. In Ft. Pierce, a local suggested we go to Odom's Orchids. We are so glad that we did.

John Odom is a home town native who earned a Masters degree in genetics and has been growing orchids for over 48 years. At one time he nurtured over 5000 awarded orchids.

As we ogled the 90,000 feet of greenhouses, I quickly understood why this flora business is one of the largest mail order orchid suppliers in the US. www.odoms.com

Enough of the flower talk, here are some of beauties which Allan photographed!








************************************************************************************************

August 2015

I was having a bad fur day, when Allan suggested that I go on a trip with him. He strongly hinted that a little humidity would definitely make me more fluffy. How can a girl resist?

So, off we went to Ft. Pierce, which is on the Treasure Coast of Florida. In non-pirate terms that would be Florida's East Coast.




On the first day there, I was meandering along the beach when I spotted several marked off sections in the sand. There was a sign attached to each one - "Sea Turtle Nest. Violators Subject to Fines and Imprisonment". I was pondering this information when a woman on an ATV pulled up next to me. She identified herself as an ecological research assistant and asked if I would like to ride along with her, while she was checking the status of the turtle nests.




And, this is what I learned.

The most common Florida sea turtles, which are considered in the "threatened" status by the Federal Endangered Species Act, are the loggerheads.



A loggerhead being outfitted with a tracking device. Photo provided by 3rd party.

Their color is reddish brown. They are named for their large heads. These turtles can grow to 3.5 feet and weigh as much as 375 pounds, as they dine on mollusks and shellfish. When threatened by a predator they can swim up to speeds of 30 miles an hour.



Nest created by the loggerhead

When the loggerhead becomes mature, which is between 15 to 30 years old, the female will return to the beach, where she was hatched and has never revisited, to lay her eggs. She will produce 3 to 6 nests per season, usually 2 weeks apart. Each nest will average of 100+ eggs. The eggs incubate for about 2 months. 90% of all loggerhead nesting occurs in Flordia.



Note the shoe print for scale Nest is about 70 yards from the shoreline
These are the tracks of the mother turtle on her way to the nesting area.

When the 2 inch long loggerheads hatch, they erupt as a group from their nest at night and scurry down the beach to the sea. They will swim offshore to live for several years in floating seaweed. Eventually the young loggerheads will take residence in the coastal waters. Their average lifespan is 50 years.



Photo of hatchlings provided by third party.

I hopped off the ATV and trotted home to tell Allan my turtle news.

There was just one glitch. Allan and I are "early to rise and early to bed" creatures. Unfortunately, mama turtles and the hatchlings do their "thing" late at night, when it is cool and, hopefully, with no observers. So, we have oodles of pictures around the turtle action, but no actual shots of the turtles. Oh well....

+++ If you do visit Florida's Treasure Coast, be sure to go to the Smithsonian Marine Station in Fort Pierce and the Florida Oceanographic Institute in Stuart.




*********************************************************************************
July 2015




Cuzco ("the imperial city"), located at 11,000 feet, is also an UNESCO World Heritage site. It was the capital of the Inca empire from the 1200-1532. Today this city straddles ancient and modern cultures. Cuzco's city center retains many buildings, plazas, streets, churches of pre-Columbian times and Spanish colonial buildings. But along with a Starbucks, one can find the local fruit vendor selling black market cell phones, which are nestled in her apron pocket.



Here Allan met Pedro, a pure blood Inca shaman, who performed a sacred ceremony and then walked 2 days back to his mountain home.



Then Allan went off to the Alumdena Cemetery. It was constructed in 1845, where a combination of indigenous and western beliefs are noted with angel sculptures, 19th century murals featuring Andean traditions, marble mausoleums, and urns placed in bronze niches with glass fronts enclosing representations of a person's life. On to the open food markets, before Allan arrived at a local restaurant to observe a cooking class and then enjoy the results.









Then came a long day on the bus to reach Puno on the other side of the Andes. Along the way, in the town the Raqchi ruins, Allan had a chance to visit a local kindergarten class and buy a pure Alpaca sweater for $20.


Eight hours later he arrived in Puno, which is located on the edge of Lake Titicaca. At 12,500 feet, Titicaca is at the highest altitude for a commercial, navigable lake in the world.







The next morning Allan took a boat trip to the Uros Islands. These islands and homes are completely man-made. The inhabitants, which are the Uros, continue to maintain them by using totora reeds growing in the lake, as they have since pre-Columbian times.







In the afternoon, Allan went to the Sillustani Tombs, which are pre-Incan burial grounds on the shores of Lake Umayo. The tombs, which are above ground in tower-like structures, are called chullpas. The area has a definite feel of an ancient sacred place.









Allan flew back to Lima, enjoyed a farewell dinner, and savored his Peruvian memories on his trip back to Miami. We reunited in South Beach. Alas, Alejandro, my Latin lover was no longer in the picture. But, my sadness quickly evaporated when we went to dinner at my favorite restaurant, Havana 1957 (www.havana1957.com). And then, home we went.




************************************************************************************

June 2014

On the road to Machu Picchu....

Allan was a bit grumpy when he got the 4:30am wake up call. Edgard, his tour guide, wanted everyone ready at 6. Allan hopped on the bus for a 25 minutes trip to the town of Agua Caliente. He then boarded the Inca Train, which would be his transportation, through the Andes, for the next hour and 45 minutes.

The views were great, the onboard service excellent, but there was definitely a sticky wicket. At the beginning of the ride, the bathrooms were immaculate. But, as the train picked up speed and the cars swayed from side to side, the men became very challenged with the toilet. And, as a cat would delicately say, the kitty box was a mess.

After the train, there was another 25 minute bus ride to Machu Picchu. Then a hike through a native market maze to the entrance. Edgard made it very clear that a lost bus or train return ticket would be a personal disaster, since there would be no way to replace either that day. The only other way to arrive/exit would be hiking the Inca Trail. This option requires a reservation, a guide, and 4 days of serious foot and lung power.

Allan lined up, had his pass stamped, and walked through the gates into Machu Picchu ("old peak"), which is a designated UNESCO World Heritage site and the most visited destination in South America.

Due to the influence of Hiram Bingham, an academic and explorer, who publicly "rediscovered" the existence of Machu Picchu in his 1911 expedition and then again with the National Geographic (http://ngm.nationalgeographic.com/1913/04/machu-picchu/bingham-text/1) in 1913, over a million people flock here annually. Since it was Sunday and during the "off peak" season, Allan was mildly lucky with the crowds that day. He and only 3,000 of his new friends were in attendance!






Machu Picchu is an amazing Inca urban creation located in the middle of a tropical mountain forest. It was built and lived in starting around 1450 and abandoned a century later. The true function of this site has never been determined. But, the Spanish conquistadores never ventured here and the ruins remain intact.







The area is divided into two parts - agricultural and urban. Each has its own moat, wall, and staircase. The structures are noted for the stone walls that fuse high blocks of stone with no mortar and buildings that coordinate with astronomical alignments. The developed area in Machu Picchu has 172 structures. The surrounding terraced valleys have been continuously cultivated for over a 1,000 years.








The panoramic views are extraordinary. Attempting to see all the "highlights" in one day is impossible. One can only start to appreciate the results of the labor of 65,000 Incas.

At 8,000 feet, the Peruvian autumn sun is hot and the continuous structure scrambling (even with rubber tipped hiking poles) is exhausting. After 3.5 hours in the ruins, Allan had his passport stamped with the Machu Picchu destination, and commenced the 5 hour bus - train - bus journey to Cuzco.
.

Next month will conclude Allan's Peruvian adventure -- Cuzco, Puno, and Lake Titicaca.


************************************************************************************************************************

May 2015

Peru was great! Well, I guess that I should explain that I got as far as South Beach on the trip. Since Allan wanted to stay in Miami before and after his flights to Peru, I booked a www.airbnb.com "comfortable studio ready for you", near Lincoln Road. And, when the caliente ("hottie") owner, Alejandro, came over to give us the key, I knew I could enjoy myself so much more Stateside. And, I did! A girl never tells tails. Meow.

Allan and I agreed that e-mailing and skyping would suffice. So, here goes his latest adventure.

I booked Allan on a Groupon Getaway sponsored by Gate 1 Travel. He met his 23 fellow travelers at the airport and off he flew to Lima ( a mere 5 hours and 45 minutes). There he met the tour manager, Edgard Mendivil, who promised a "Peruvian experience" and it truly was.

Lima is a 21st century, vibrant city, which is located in a desert, though it is on the Pacific Ocean coast. One third of Peru's (9 million) population lives there. The mild temperatures, the endless, oceanside parkways, and the delicious fresh seafood quickly impressed Allan with this metropolitan area.

And then, the real historic, altitude challenging Peru adventure began. A flight to Cuzco and then a bus ride through the Sacred Valley to Ollantaytambo was a defining introduction to another culture, the Inca world.




The majority of the group went on an excursion to Moray. which is an agricultural archaeological site noted for its terraces and sophisticated irrigation system. But, Allan and his new travel buddies, Don and Dennis, opted for a local bus ride to an Inca ruin. It cost 3 Peruvian soles, which a equivalent to a US dollar, for a 50 minute bus ride to the town of Pisac. Then they took a cab, which zipped them up the 11,000 foot mountain, to the
Inca Pisac. This archeological site is considered the best preserved Inca ruin, after Machu Picchu. With military, religious, and agricultural structures, this location has served at least a triple purpose.





And, here the challenges of altitude became evident to Allan. The men were a bit breathless and light headed as they climbed to the Temple in the Sun. When they returned to the village below, they decided it was time to try some coca tea (mate de coca).






Coca is cocaine, but drinking the tea is consuming a very modified form of it. The Andean indigenous population has been chewing the actual coca leaf for centuries to combat altitude sickness at the higher elevations (11,000 feet to 15,000 feet). At all the hotels and restaurants that the tour went to, the tea was offered. And, it really seems to help. But alas, Allan brought none back for me to sample. Granted it is legal in Peru, but not in the States. Rats!

The June 2015 blog will be all about Allan's day at Machu Picchu...


*******************************************************************************************************

April 2015

I was participating in my favorite pastime (napping, of course) when I was rudely awakened. Then, I panicked. I was in the back of Allan's car and he had closed and locked the door, which could only mean one thing - we were on a trip. After peaking out the window and surveying the terrain, I surmised that the car was parked near the JW Marriot, which is nestled in the Tucson Mountains. I saw him, with a camera backpack, in the distance and realized he was going on a hike.






I zipped to the front seat, pawed the front door lock open, and slinked into the hotel. I hid behind a plant and discreetly listened (okay, eavesdropped) as the concierge told a potential hiker about the Bowen Homestead, informally known as the Stone Cottage, Trail.






The Bowens moved from Illinois to Tucson in the late 1920's. Sherry was a typesetter for the Arizona Daily Star, where he later rose to become the city editor. He and Ruby decided to become homesteaders in the 1930s. Their stone cottage was completed in 1935 and they eventually expanded their land claim to 2,000 acres. The Bowens left Tucson for New York City in 1944. Their homestead became part of the Tucson Mountain Park in 1983.






The hike to the stone cottage is 3 miles roundtrip from the hotel. When you go out of the Marriot's front entrance, head left on the road, The trailhead sign will be obvious at 500 feet. It is a moderate level hike, though a walking stick helps with all the small rocks on the path and the numerous cacti close at hand. There will be an unmarked fork about 1/2 mile in, so stay to the left. Later, when you see the Yetman Trail sign, go left. The stone cottage ruins are in great shape, considering the age and elements. You can head back the way you came or continue on the Yetman Trail, where you will eventually come out on the road (probably another 2 miles in walking distance). Be sure to bring water.

There are numerous Saguaros and cacti everywhere. The views are beautiful. In season, the wild flowers are everywhere.

We are off to Peru next month, so the blog will definitely be delayed. Hasta luego!!!


*****************************************************************************


March 2015
Hola! My name is Senorita Bonita Gordita. (This translates to Ms. Plump and Pretty.) But, I just go by the name of Bonita. I am a Maine Coon cat, who weighs 16 +pounds. I have not stopped eating since Allan gave me a "forever home", after I had lived in three "no-kill shelters" for over a year. Yes, I have been placed diet food for my health.
The reason I am telling you all about me is that the late Mr. Max, who was a close pet friend, asked me to take over his blog, if anything ever happened to him. This occurred when I was in the middle of a nap and I must have mumbled "yes" , so here I am. After much thought, at first I decided that I would like to keep the blog's current name in my buddy's honor. But, I am also a bit narcissistic, so I shall rename it as "Travels with Bonita and Allan". If you know cats, you should not be surprised with this announcement. Meow, as they say.
I have a bit or arthritis, so travelling isn't my usual thing. But, I have always been Allan's social secretary/travel agent, so I know all about the adventures he goes on, even before he does. And, I shall be an appropriate scribe.
Last month Allan stayed close to home, because of a certain decade birthday he was celebrating. (I am not saying a word about the number. I am known for my discretion.) I rented a special casita on airbnb.com entitled "Scottsdale Luxury, Winter Haven". Everything Kathy, the owner, described in her copy was quite accurate. Enjoy!



Birthday cards galore - Thank you all... Storm and I at our rental casita



Allan went to visit a photography friend, Alan Magazine (alanmagazinephotography.com), at the Fountain Hill Great Fair. Lots of booths and colleagues to visit, so he came back before his birthday dinner, to take a cat nap. (It is the only kind!)

One Scottsdale restaurant, True Food Kitchen (480/265-4500), Allan really liked. It had lots of healthy (local produce), delicious meals in an airy, open spaced environment. Just get there early, if you don't to wait forever.
And, now back to the art show circuit for Allan. He hopes to see you soon!



************************************************************************



February 2015


In Memory of Max...


I so miss my beloved poodle buddy, Max. From the day he chose me until his dying breath, we were together for 13+ years. He was an energetic, always enthusiastic companion, who was ready to go on the next adventure immediately.


Max grew up in snow country, Breckenridge, Colorado. He adapted to the cold weather quickly, be it sitting on the back of my snow shoes or demanding that I instantly remove the snow between his paws. (Spraying Pam on them resolved that problem.) When we moved to Tucson 8 years ago, he adjusted to the desert, though cactus thorns on his hair and in his paws were always a concern. (Always carry pliers with you.)


There are so many memories. I would like to share a few of them.


-As a puppy, Max would constantly go in the closet and haul out the white Alpaca slippers, which were bigger than him, while trying not to look too guilty.
-When Max was 6 months old, I took him to Denver. When we arrived, I tried to convince him to pee. He would have none of it, until he spotted a melting snow bank across the parking lot. He raced over and did his thing. I slowly realized that in his short life, he only knew how to relieve himself on snow!
-He always went with me to work at my real estate office in Beaver Run Resort. His favorite place was to lie in the middle of the entrance door to the office and greet everyone.
"Office Max"


-One day Max couldn't find me in the office, he left, trotted the 2 miles home, and barked his displeasure at me. (He even halted at the stoplight, waited until it turned green, and crossed with the other pedestrians. Later, friends called to report this me.)
-He was fanatical about retrieving anything that I would throw for him. If I didn't have anything to toss, Max would improvise. Sometimes he was a bit too ambitious!
-Max's passion was running through mountain fields chasing (not catching) rabbits & fox. Until the day he encountered a moose. After one feeble bark and the moose bellowing back at him, he turned tail and madly raced toward me to "save the day".
-In Tucson, And, due to his forever daily walks, I discovered the multitude of blooming cacti in a neighbor's extraordinary garden, where I started down the path to being a professional photographer. Many times Max would pant and patiently sit under a tree, while I would labor over shooting a flower from the "right" angle.
Max, may your puppy spirit be romping and continuously chasing a yellow tennis ball with your many friends at Rainbow Bridge. Thanks for sharing your life with me. Goodbye buddy, happy trails!








**************************************************************************


January 2015

When Allan and I were visiting the family in DC this last Fall, we had a day off from grandbaby sitting . So we hopped on the Metro system and went to the Newseum.

I had never heard of the Newseum, but TripAdvisors users rate it as a "Traveler's Choice Top 10 Museum in the US". And, I quickly learned why. It is an amazing opportunity to view history through the eyes of the media.





The building's architecture is dramatic with lots of windows, angles and soaring space. On the outside windows, there is a digital display of today's news on the front pages of many US daily papers. As you enter, Pulitzer Prize pictures, dating from the 1940s to present, welcome you. It seems like every picture, which you look at, you will immediately recognize. Then you go into a media room, which is playing a film where the actual Pulitzer photographers discuss how these extraordinary photos were taken. The adage of "Being at the Right Place at the Right Time" appears so true.

There are 7 floors to the building , each has its own media story to tell. On 6, there is an enormous balcony, which is right over Pennsylvania Avenue and has an a spectacular view of the Capitol. (This venue is very popular for weddings and parties. Especially since the Wolfgang Puck concession caters these affairs. It is also the Newseum's vendor for the restaurant/cafeteria in the lower level.)




The fourth floor is where you'll find tissue boxes everywhere. Why? This is the 9-11 exhibit. After viewing the bent and melted Twin Tower communications antenna, which was on top of a Twin Tower, and the still photos, you enter the media room to learn "how" these pictures came to be. It is a tough show, but so very worthwhile.

Yes, coming to the Newseum is a very different experience, but one that should not be missed.

****************************************************************************


December 2014 (Part 3 of the Great Mileage and Photo Trek)



A working ranch outside of Jackson, WY


When we decided to leave Yellowstone, we could either drive North to Glacier National Park or head South to the Tetons. After we drove out of the Park to the South, we immediately came upon a lovely, meandering road (the John D. Rockefeller Jr. Memorial Highway), which offers breathtaking views as we headed toward Jackson Hole. (Note: Jackson, WY is the city. Jackson Hole is the ski area. This name distinction is empathically pointed out by the locals.)
The original Grand Teton National Park, which included the Teton Range and 6 glacier lakes at the base of the mountains (96,000 acres), was established on February 26, 1929, under the agreeable approval of President Calvin Coolidge and the US Congress. Unfortunately, due to John D. Rockefeller Jr. purchasing an enormous part of Jackson Valley, politics (local, state, and national) and interest groups (sheep ranchers, dude ranch owners, local residents) created a land struggle for the Park, which lasted for the next eight decades. With the final acquisition of the Laurance S. Rockefeller Preserve on June 21, 2008, the Grand Teton National Park was complete with 310,000 acres!





The Snake River meanders beneath the towering Grand Tetons


The Grand Tetons demand your attention. Even being at 6,400 feet in Jackson Valley, the Grand Teton appears to loom over you at 13,770 feet. There are 12 other peaks in the mountain range, which are over 12,000 feet. This spectacular setting is constantly changing as it dances with the sun and clouds. This is nature at its best!
The town of Jackson is tastefully touristy and definitely expensive. With 5 million visitors streaming through each year, one must plan ahead for housing, especially in the summer. Again, we found a delightful 1br/1ba in Teri's East Jackson home (airbnb.com). Her cat, Nelson, knew his hosting duties and treated me, his elder and dignified poodle guest, with respect.
The rest of the trip was a whirlwind. In one day, we drove straight through to Grand Junction, Colorado. The drive was long, as we zipped through the western sides of Wyoming, Utah, and Colorado. But, we enjoyed viewing the historic towns, the Flaming Gorge Reservoir (an impressive hydroelectric plant and recreation area), Dinosaur National Monument (dinosaur fossils), and the BedRock Depot (on Brontosaurus Boulevard in Dinosaur, CO), which may have the best homemade ice cream ever. The vast spaces, the isolation, and the continuous scenery changes were unbelievable. Be sure to fill up your car and check your tires before you go!



Fall colors galore


Then on to Montrose, CO, where we stayed at the Canyon Creek B & B (www.canyoncreekbedand breakfast.com / say "hi" to Kendra). We explored the towns of Telluride and Ouray, where we gazed at the brilliant fall colors.
The last stop was on the Navajo Reservation in Canyon de Chelly. Arizona. The history and stark beauty of this sacred area is definitely worth a guided tour. Six hours later we were back in Tucson. And, I was off to my dog bed for a long night's rest!





*******************************************************************************************





Max's photo of Allan shooting the Fall colors
November 2014 (Second in the series of the 3600 mile, 2500 photo trek)
Yellowstone National Park here we come!
So, we left the North Rim and hit the road to Salt Lake City. A mere 400 mile drive. We spent 4 days in a condo (airbnb.com) situated in the flower laden, historic neighborhood, which was convenient to everything. Allan even had the opportunity to hear the Mormon Tabernacle Choir! (Of course, no dogs allowed ).
Then, back into the car for another 320 mile drive to the West Entrance of Yellowstone. But we had a bit more driving to do. You see, there were no rooms to be found there, in the actual Park, or at the other 2 closer Park entrances. Yellowstone was booked! So, our destination was Cooke City, Montana.
The overly cheerful ranger explained to us that the 88 miles across the Park would only take 2 1/2 to 3 hours depending on the buffalo! Allan looked at her quizzically and off we went. We zipped to the other side in 1.5 hours and not a buffalo did we see.



Max's buffalo shot with his cell phone

The moment I saw our lodging, I was in awe. I knew that I would never see a logged exterior Super 8 again! We moseyed down the wood plank sidewalk to the Beartooth Cafe and settled in with the locals. Going to the Northeast Park entrance turned out a great place to be.
The next day I was rudely awoken, so Allan could get into the Park early, before the "crowds". And, then we met the buffalo. A petite herd of a 100. The buffalo are almighty here! They can do no wrong. If they want to walk down the road, the one and only road, they do. And, they did. If it hadn't been for the Park's garbage truck, which was on a cleaning mission, we wouldn't have moved for hours. That enormous truck beeped and slowly ploughed through, as the beasts of burden gave up the right of way. We stayed behind it, sniffing all the fumes. Yeah for the garbage ranger!




Buffalo, Antelope, plus more
Yellowstone, which is documented to be America's first national park, is located primarily in Wyoming. though it extends into Montana and Idaho. It spans almost 3,500 square miles The average elevation is 8,000 feet. The Park is all about the views - the vast plains, the geysers, the waterfalls, the rivers, the lakes, the canyons, the mountain ranges. And, then there are the animals (bison, antelope, elk, moose, and the infamous grizzly bears), plus the zillion birds and fish.




Tower Falls


Yellowstone is an absorption experience. You just have to let all the different sights and sounds soak in as you hike, bike, drive, boat or just gawk at the scenery around you. What a wonderful park it is!


**************************************************************************

October 2014
I was enjoying the "dog days" of summer, when Allan announced that we would be taking a road trip. And, off we went on a 3600 mile, 2500 picture marathon. Our, okay his, focus was on the Grand Canyon (North Rim), Yellowstone, and the Grand Tetons. Yes, we stopped at many other places along the way, but I feel that these National Parks should be acknowledged in some detail. So, for the next 3 months, I will give you my insight on each of them.
Only 10% of the Grand Canyon's 5 million yearly visitors come to the North Rim. The following factors will explain why. Going there is a serious time commitment - Sedona (4.5 hours), South Rim of the Grand Canyon (5 hours), Las Vegas (5 hours), Salt Lake City (7 hours) - even though the actual distance from Rim to Rim, via bird flight, is only 10 miles. If you plan to stay overnight, finding housing is both expense and very limited. You must make reservations early. And, with the elevation being 8,000 feet, the Park has no services between October 15th and May 15th, due to snow accumulation and roads closures.




Angels Window


The North Rim's isolation creates an intimate connection with visitors. The varied trails have only a few hikers, the cyclists have wide open roads, mule trail rides aren't crowded, and cars have easy parking at the outlooks.


After you reach the Park entrance you have still have another 14 miles before you reach the visitor center and the Grand Canyon Lodge. Don't go there first, but take the winding scenic road, along the North Rim, to Point Imperial and Cape Royal. It is amazing to visually follow the panoramic views of the Colorado River, as it meanders through the red and black Precambrian (1.8 billion years old) rock formations from the narrow Mable Canyon into the Grand Canyon. This excursion will take several hours. Be sure to bring water and food with you.



North Rim from the Imperial Point Road

The Park's highlight is to arrive at the Grand Canyon Lodge just before sunset. Go on to the patio or to the Bright Angel overlook and watch the incredible color changes of the Canyon as night takes over. You will not forget it.
Go! It is worth the extra effort.

September 2014


When Allan said we were going to central Florida on a summer vacation, I knew that the Arizona heat had gotten to him! But, off we flew to Tampa and we ended up having a real "cool" vacation, both on the West and East coasts.


Our home while on the West coast of Florida The resident egret

On the West coast we stayed in Dunedin at the Honeymoon Island Beach House, (vrbo.com/500046 and/or e-mail info@honeymoonislandbeachhouse.com) which is an amazing updated, modern place right on a waterway. We had lots of private outdoor space, complete with an eating area, chaise lounges and pier, where we could launch our complimentary kayaks. Bikes were also provided and we really enjoyed cycling over the causeway bridge to Honeymoon Island State Park.


A lovely Florida sunset

This beach is on a natural barrier island which has 4 miles of sandy beach, nature trails, and oodles of wildlife. When you aren't checking out the ospreys and the very slow gopher tortoises, be sure to go to the " Dog Beach", where I spent some quality time chasing a very cute golden doodle puppy. And, consider taking the ferry that launches from this park, to visit Caladesi Island State Park, which has an amazing white beach, and is a fun day long excursion.
The ever present alligator Another way to fish

After a week, we packed our bags and bones and drove to Fort Pierce on the East coast, which is about 3.5 hours across the whole state. We weren't so lucky in our rented condo here. The nicest thing to say is that the copy and pictures indicated in the listing had nothing to do with reality. But, we really enjoyed the area from the local Farmer's Market and Art Show, to the very laid back restaurants, to the fascinating Navy Seal Museum (Yep, this is where the Frogmen program started in 1943.). But, the best action was when we took the 1.5 hour airboat trip (gatorbaitairboatventures.com ) on Blue Cyprus Lake, which is outside of Vero Beach. Captain Billy put headphones on us, due to the very noisy boat motor. We zipped around this amazing lake gawking at birds, flowers, and alligators! Okay, the alligators were baby sized compared to the ones in the Everglades, but I still would not like to have one as a pet.


On our way back to Tampa, we stopped at Lake Kissimmee State Park in Lake Wales. We discovered "old" Florida. The magnificent oak trees were complete with hanging Spanish Moss. The fisher people had their poles in the water and their beer in the cooler.


Gone fishin Dangerous!


The humidity was thick. And, the mosquitoes were on combat missions.

Yes, Allan, Florida is fun to visit, even in the summer.

Max

**********************************************************************************************
August 2014
Allan has definitely invested himself in Las Vegas this summer. No, he doesn't have a budding gambling problem, more like a "photographing landscape" obsession.


He is enamored by the Valley of Fire. This is Nevada's oldest state park, which was dedicated in 1935. It is located 50 miles northeast of Las Vegas. The park is in the Mojave Desert, which makes the summer temperatures intolerable (120 degrees, anyone) and the winter comparably mild. So, why doesn't Allan go in the spring or fall?
Valley of Fire derives its name from the red sandstone formations, created from great shifting sand dunes 150 million years ago. The sandstone combined with limestone, shale, and conglomerate, creates amazing color and varied scenery throughout the park. Be sure to check out the petroglyphs in Mouse Canyon.


The park is open year round from dawn to dusk Don't forget to bring lots and lots of water!
Max


************************************************************************


July 2014
We all know the saying of the "Dog Days of Summer", well it couldn't be truer in Tucson, especially if you are a canine.
Allan had scurried off for another Las Vegas photography trip and I decided it was time for me to beat the heat and have fun in San Carlos, which is a Mexican beach community. No, I wasn't going by myself. My cute novia (girlfriend), Senorita Esperanza (Hope), who is a delightful mix of Bichon and Poodle, agreed to accompany me.



Driving by car takes about 6 hours from Tucson. When you enter Mexico at Nogales, head South on Highway 15. You will pass through the towns of Magdalena, Santa Anna, and Hermosillo, which is the bustling capitol of Sonora (This is one of 31 sovereign states under the federation of the United Mexican States.) There are a couple of toll booths and police check points along the way. Was it a scary trip? No way. And, the bathroom stops were topnotch. (This is a very important aspect of a dog's life!)



San Carlos is 10 miles from the large city of Guaymas, which has some interesting historical buildings and plazas to check out. We rented a condominium at the Bahia Delfin. Our unit was right at the sea wall. And, a mom and dad dolphin, along with their 3 babies, swam around our bay each day, while snacking on schools of sardine.



Hope and I frolicked in the ocean, sauntered down the "forever" beaches, lingered over meals at Los Arbolitas and the Hotel Marinaterra's patio restaurant, enjoyed awesome views, and napped whenever. I am sharing some of my cell phone pictures with you. Warning: I am a dog. I am not a photographer.
Hasta luego!
Senor Max

***************************************************************************************************



June 2014


Allan had a photography business trip to Las Vegas. I have always had a hankering to play the slot machines. So, it was the perfect match! Off we went to "sin city".


But, besides all the entertainment options on the "Strip", I really enjoyed my day trips out to the Hoover Dam and the Red Rock Canyon National Conservation Area. Here are some of the highlights!


The Hoover Dam, originally known as the Boulder Dam, spans the Colorado River in Black Canyon between Arizona and Nevada, 30 miles southeast of Las Vegas. The Dam was built to harness the waters of the Colorado River for agricultural use in Arizona and California, as well as being a hydro-electricity plant to provide electricity for Arizona, California, and Nevada. Lake Mead was created and is the largest United States reservoir by water volume.


The dam was constructed during the Great Depression, between 1931 and 1936. 21,000 men were employed and 100 lost their lives. It is 726 feet high and 1,244 feet long. Construction costs were $49 million dollars. 7 million tourists visit it each year. What an amazing man-made feat!


Red Rock Canyon National Conservation Area, which is an area administered by the Bureau of Land Management, is local 15 miles west of Las Vegas. A 13 mile, one-way loop road meanders through red rock formation and sandstone peaks. Hiking, biking, and rock climbing are quite popular.


You know "what happens in Vegas, stays in Vegas." Enjoy!


**********************************************************************************************************

May 2014
Allan and I went to Monument Valley, AZ so that we could go on a very special overnight trip into the remote Navajo back country. Our destination was Hunts Mesa.


We chose Phillips Photography Tours (Ray Begay - 928-429-0042 / leave a message) as our Navajo guide. We met at 2pm at the Monument Visitors Center. (Remember that the Navajo Reservation operates on daylight savings time, not Arizona time.) Ten other people, from all over country, piled into the Chevrolet Suburbans with us. And, off we went on a very bumpy, rocky ride for the next 2 hours.


As you may have determined by now, this trip was all about photography. By going to the Mesa, we had the opportunity to shoot some spectacular views, which very few people get to see. Granted, it got a bit boring for me, since Allan wanted to take photos of these scenes at sunset, moonrise, and sunrise. Dog is definitely man's best friend.


When we arrived, our tented campsite was set up. Even sleeping bags were provided! But, be sure to bring your own flashlight. One lady didn't and when she ventured out to the "bathroom", she got lost and wandered around the Mesa for 4 hours, until daylight, when she found her way back.


After sunset, we had a steak dinner and in the morning, after our final photo shoot, we had a "cowboy" breakfast. Then we rattled and shook our way back to Monument Valley.
April 2014
Allan had a week off between art shows, so I was sure that he would spend some quality "dog time" with me. Contraire. He chose to desert me and go to a Phoenix Arizona Highways Photo Workshop on "Making Lighting Your First Language". The whole program was inside and no dogs were invited.
So, I decided to take a hike on Agua Caliente Trail with some of my human friends . This Tucson trail is located between the Santa Catalina Mountains and the Rincon Mountains. It is a strenuous exercise, which includes a 9.25 mile round trip trek and a 3018 foot elevation gain. I quit at the 3 mile marker, where I attained a great view of the metro Tucson area. It was a sunny day and being an all black dog and 12.5 years old ( 87 people years), it was too much. My human friends were a bit concerned about my welfare, since I had drunk all my water and theirs. When I returned home, I drank four large dog bowls of water and recovered. Oh well, I still had fun.
If you want to go, start early. There is very little shade on the trail. Of course, bring lots of water. Go east on Tanque Verde Road., north on Soldier Trail, east on Ft. Lowell, and north on Camino Remuda to the trail head and parking lot. Yes, it is pet friendly.
**************************************************************************


March 2014
Allan and I had a week off between art show commitments, plus it was Allan's birthday. No, Allan didn't want to stay home and relax. So, we packed up our backpacks and headed toward Sedona. It is a favorite stomping grounds for us and on this adventure we went to Red Rock State Park!



It is a 286 acre nature preserve and education center with vast views of the Sedona landscape, 10 gentle hiking trails, and an opportunity to splash in the wandering Oak Creek. If there is enough rain, it will be a must visit during wildflower season. There is a $5 dollar charge per person just for this state park. You can quickly economize by obtaining a Red Rock Pass from the Forest Service Center or the Sedona Visitor Center. The day pass is $5 and the weekly one is $15.
But, for all the park's natural beauty, the shattered love and political intrigue of the House of Apache Fire will keep you mesmerized. (There are two trails which will lead you to this decomposing, massive structure.) So, here goes...

In 1941 Jack Frye, who was one of the founders and president of TWA, and Helen Vanderbilt Frye, who had recently divorced Cornelius Vanderbilt, purchased five parcels of land, which were then named Smoke Trail Ranch. While their enormous red rock home was being built, Jack Frye divorced Helen and took off with a New York show girl. Helen completed the house construction, became involved with an "alternative" religious group, Eckankar, which later became the owners of the property.
In 1980, Arizona Governor Bruce Babbitt and his friends were hiking along Oak Creek and were asked to leave the private property by an Eckankar member. The Governor became concerned that the public did not have hiking access to the State's waterways. After many years of political wheeling and dealing with Eckankar, Anamax Mining Company, and the State Land Department, numerous land exchanges occurred and the dedication and opening of Red Rock State Park occurred on October 19, 1991.



****************************************************************************



February 2014
Allan said that we were going to the "Wings Over Willox" festival. I asked what it was all about. He told me that we would be observing the migration of the Sandhill Cranes. I explained to him that bird watching wasn't my scene, but, Oh boy, was I wrong.
The Sandhill Cranes begin nesting around four years of age. The nesting areas range from central Canada, Alaska, and northeastern Siberia. Two eggs are usually laid, but a pair raises only one chick per year. The chicks grow very rapidly and are 10% of the migration population.
The winter migration begins in late September. The Sandhill Cranes migrate in a few long, high altitude flights, stopping over Platte River in Nebraska and the San Luis Valley of Colorado.
The birds arrive in northeastern Arizona, usually in the Sulphur Springs Valley, where they will stay until the middle of March. The Sandhill Cranes prefer shallow water roosting areas with low or no vegetation. There is a preference for them to be near harvested fields of corn or other grain crops. Their feeding schedule includes a morning flight and an evening one, just before dusk.
Their overall color is gray with black feet, legs and bill, and a dull red patch skin on their forehead. They can reach 5 feet in height and have a wingspan of 7 feet. The birds are very vocal and their loud bugling can be heard a mile away.
And when the Sandhill Cranes fly..... Enjoy the pictures!




These "Blue Angels" show precision flying!
Where is the air traffic controller when you need one?
Well, let's land here!




**********************************************************************************************


January 2014
Wow, the New Year is here!
We were very busy over the Holidays. We flew to Alexandria, VA to see our grandson. As you can imagine, Brooks was our number one reason. But, I have to say that the family has one very cute brown and white female dog, Zoey, who kept me quite busy during my off hours of babysitting duty.
We did have a chance to visit Old Town Alexandria and were fascinated by the beautifully maintained historic building. Old Town's streets was laid out in 1749. It was part of the original Washington, DC. In 1836 Congress retroceded Alexandria to the Commonwealth of Virginia.
The first fatalities of the Civil War occurred in this Southern city. In May, 1861 the Union troops occupied Alexandria and did so until the end of the war. Before the occupation, the town's infamous claim was that of the second largest slave trade market. After the occupation, the city became a mecca for escaped slaves, who were finally freed with the ratification of the Fifteenth Amendment. By 1870 over half of the population of Alexandria was African American.
Today Old Town's historic landmarks include General Robert E. Lee's childhood home and the replica of George Washington's townhouse. Stores, art galleries, antique shops, restaurants, and refurbished townhomes now fill the narrow cobblestone streets.
Yes, there is only one picture to share. You'll never guess who!






***********************************************************************************************
December 2013
As I pointed out to Allan, it is hard to get ready for the holidays in Arizona without snow. I spent the majority of my doghood in the Rocky Mountains at 10,000 feet, so this seems very reasonable to me. Since Allan refused to take me to Colorado, I agreed to attend the Bisbee Historic Home Tour with him in the hopes that I would feel more festive.
Though there were 12 great homes to view, I instantly became excited when I trotted through the door of the Calumet & Arizona Guest House (www.calumetaz.com). This stunning bed and breakfast was built in 1906. After many owner transitions, the Timbers acquired the home and have been restoring the buildings and its gardens ever since. The room prices are very reasonable and a full breakfast is included. The best news of all is that it is pet and child friendly.
But, it is the extraordinary detailed Christmas decorations that instantly commanded my attention. The pictures below will hopefully stimulate your festive spirit too. Enjoy the Holidays!!!
The parlor
Ready for a holiday feast A stunning Christmas tree
A magnified view of the Christmas ornaments




**********************************************************************************


November 2013


We went to see Allan's grandson. He lives on the East coast, but he was vacationing at his grandmother's home in Huntington Beach, CA. His parents were very busy, so we were in charge of the 10 month old bundle of energy. We helped him on his walking skills, which he perfected later at home. Allan and I were absolutely exhausted when he boarded the plane. A puppy is definitely easier to handle!


He is tuning up his surf board (okay, skate board) so he can head down to Huntington Beach, CA, which is also known as "Surf City" (Surfin' Safari / The Beach Boys)
We decided that we needed a less hectic pace. And, we found it at the Mission San Jan Capistrano. Coming to this Spanish mission, which was founded by the Franciscan friars on All Saints' Day on November 1, 1776, is truly observing history at its best in this beautifully restored compound. Through Indian unrest, epidemics, earthquakes, floods, abandonment from Spain and the Catholic Church, Mexican Independence, California Statehood, and the constant necessity to maintain financial stability, the Mission survived and received California Historic Landmark status in 1935. Today the Mission serves as a living museum.

The Mission Courtyard.



Each year the Fiesta de las Golondrinas (The Swallow Festival) is held in the city of San Juan Capistrano. This is to celebrate the return of the American Cliff Swallow, which is a migratory bird that winters in Goya, Argentina and then make the 6,000 mile trek to the Mission and surrounding area for the Spring and Summer. Legend cites that this impressive migration has occurred for centuries. In the last 25 years, fewer birds have returned. Increased development of the area and fewer insects to eat are reasons cited for the decline.

**********************************************************************************************



October 2013


Thanks to an unbelievable, inclusive Groupon Deal via The Friendly Planet, Allan and I spontaneously took a trip to Ecuador, which means equator in Spanish. We flew to the capital, Quito, and met the rest of the tour, which consisted of 24 others, whose ages ranges from late 20s to 70, Our wonderful guide, Patricio, and his amazing bus driver, Hermes, completed the gang.


In 8 days, we traveled 1200 miles and saw an extraordinary third world country close up. From viewing Quito's Old Town, an UNESCO World Heritage site, to visiting the colorful Otavaleno Indian market, to canoeing and tubing down the Amazon, to enjoying the hot springs in Los Banos, to gazing at the 19,5000 foot volcano in the Cotopaxi National Park, we exhaustingly enjoyed it all.




The accommodations were superior and the food was varied and plentiful. Allan and I have a forever memory!
September 2013


Wow! Allan and I have just spent two weeks traveling in the amazing state of Oregon. Though rain and grey skies are one's immediate thought, we had sun every day. Though we didn't go everywhere (Bend and Crater Lake are on our bucket list), we enjoyed Portland (city), Waldport(coast), Mt. Hood (Cascade Range), and the Columbia River Gorge.



Elowah Falls - for scale note my 5'2" wife standing to the right of the arrow


In Portland, we rented an apartment (pet friendly) in the East Mississippi community, which is very vibrant, laid back, and eclectic. Portland is a city of defined communities, each with its own flavor. I must point out the extraordinary Washington Rose Test Garden. Though the rose garden was officially started in 1888, its international prominence began in 1915 when a rose hobbyist voiced concern over the possible loss of European hybrid roses during the bombings in WWI. He asked fellow hobbyists to send cuttings. They did. Today the garden boast 7,000 variations. Yes, dogs are permitted.


The Oregon coast has magnificent white sand beaches, rocky terrain, fog, estuaries, and forever vistas.
We rented a spacious beach house, named the "Moonstruck Mermaid" (VRBO.com/286081), in Waldport, which is 3 hours south of Portland. Of course, pet friendly!


Mt. Hood, (11,239) the highest Oregon peak, and its Cascade Range were created by glaciers and volcanic activity. It is a prominent landmark and can be viewed from over 100 miles away. Hiking through the enormous forests are a must.


Hood River, located in the middle of the Columbia River Gorge, was our last destination. After a definite mix up on confirmed reservations, we lucked out and ended up in a superbly renovated 1928 home on 2 garden filled acres. (sevenoaksbb.com). The town is full of restaurants and interesting shops. But, investigating the Gorge's natural wonders, especially the skyscraping waterfalls, are a must too.



620' high Multnomah Falls. Bridge was built in 1915


Good news. Alaska Air will be flying non-stop from Tucson starting in November.




**********************************************************************************************


August 2013
Be sure to check out my latest exhibit at the Pima County Library in Oro Valley, AZ.
(www.library.pima.gov/locations/orovalley/art.php) Click on Current Exhibits.
Disclaimer: I, Max the Poodle, did not go on this trip with Allan. As you read the blog, you will understand my reasoning. And, yes, dogs, are allowed on this land.


Allan hiked to the multi-colored sandstone rock formation in the Coyote Buttes, called The Wave, which is located on the Arizona-Utah border. This photography opportunity has been on his "bucket list" for 5 years. Granted the colorful, undulating rock forms are spectacular, but the rugged, trackless hike is challenging, especially during the very hot summer, when the temperatures spike to over 100 degrees in the summer heat! (Go in the Spring or Fall.)
But, not just anyone can go, because you have to be a lottery "winner" to receive a Bureau Land Management (BLM day-use permit. There are two ways to achieve this goal. One can obtained a pass via an online lottery (www.blm.gov/az/st/en/arolrsmain/paria/coyote_buttes/permits.html), which is conducted 4 months before the month for which the permit is sought. Or, you can actually go to the year-around-lottery, which is held at the Grand-Staircase National Monument Visitor Center in Kanab, Utah at 9am the day before you want to go out. In each lottery there are 10 people permitted for a specific day thus 20 people are allowed daily. This adds up to about 7300 annually permitted hikers out of 48,000+ who apply. The main reason for this strict control is the fragility of the area and the need for its preservation.


I was asked to accompany Allan on this jaunt, but with the predicted high sunny temperatures, I quickly refused. Especially, since I would have carry 3 recommended gallons of water per person/dog. Luck was with him though, when an energetic, athletic University of Arizona student said she would be happy to accompany him. (The buddy system is DEFINITELY suggested.)
So, off Allan went at 3:30am, so he could meet Rachel in the parking lot and start hiking by 5am. The plan was to avoid the midday sun, since all the hiking is in harsh desert conditions with little shade.


Since there is not a specifically marked trail, a formal BLM guide sheet for navigating to The Wave is provided to every permitted hiker. The distance is 6 miles round trip. People get confused by the landmarks "map'" and become lost. Taking a GPS is a really wise decision. Cell phones do not work.
11 hours after Allan left, he returned home. But, unfortunately not all the other day hikers did. A 27 year old Arizona woman and mother of 2 died of a cardiac arrest. In early July, a California husband and wife perished after being lost and overwhelmed by the heat.
(www.usatoday.com/story/news/nation/2013/07/23/hiker-dies-in-desert/2579471/)
Now you know why I didn't go! If hike is on your summer "bucket list", please be careful.





***********************************************************************************************



July 2013



Up, up, and away we helicoptered down to the Havasupai Indian Reservation, which is located on the northern Grand Canyon floor in the Havasupai Indian Reservation. Our destination was the spectacular Havasu Falls, which consists of one main chute that drops over a 90 foot vertical cliff into a large pool. And, it wasn't easy getting there!


Let me give you the background story, so you can really appreciate how difficult it can be to get the "perfect picture".


Our professional photography friend, Alan Magazine (www.alanmagazinephotography.com) came up with the idea for this trip and invited us, along with 2 other photographers to accompany him. We drove up to Fountain Hills, AZ, met the others, and headed to Seligman, AZ to spend the night at the Canyon Lodge (www.route66canyonlodge.com). Hey, how can you go wrong at $57 at night and spend your evening in the Marilyn Monroe or maybe the Elvis Presley room?


We left early for the Grand Canyon, so we could meet our Airwest helicopter (www.havasupaifalls.net) at 10. Even with a reservation, tribal members have priority seating for the 4 seats. The flight costs $85 each way. And, if you would prefer hiking down and back, it's a mere 10 miles.


Havasu Falls


Besides Havasu Falls, which is a beautiful sight, there are 4 other falls, 3 of which we went to. The rope ladder to the other was too much of a challenge with the bulky photography equipment. And, hiking in the deep sand and rocky terrain in 105 degree temperature was exhausting. There were many dips in the water to keep us cool.


Gardens of Havasu Creek


We spent the night in the Havasupai Lodge (www.havasupaifalls.net/lodge). Except for camping, it is the only lodging in Supai. It does have hot water, air conditioning, and a cafe. A great review from Trip Advisor it doesn't have.


Getting out of the canyon was definitely a patience challenge. After 3 hours of delays, we finally lifted off.


Overall we saw amazing scenery, took many photographs, were completely exhausted, and kept wondering if we should of tried to climb down the rope ladder. Maybe next time....




**********************************************************************************************



June 2013


Monument Valley is on the Navajo Nation Reservation, which extends into both Arizona and Utah. The Navajo name is Tse Bil' Ndzigall means "valley of the rocks". The sandstone monuments tower at heights between 400 and 1,000 feet and are surrounded by buttes, mesas, and arid plains. The scenic, but rocky, sandy 17 mile loop is best navigated in a SUV. It is one of the most photographed landscapes in the world.


West Mitten taken through old Juniper

But, the photography is Allan's gig.
Let me tell you what really happened behind the scenes -- the bomb scare. We were on the only road out of Monument Valley (MV) which heads towards Utah and our night accommodation in Mexican Hat. We were stopped by a Utah state trooper, who explained that a tourist bus on route had received a bomb scare. This was a week after the Boston Marathon horror and police everywhere were on high alert. So, the tourist bus was left in the middle of nowhere, the elderly English tourists were transported back to MV, and a bomb sniffing dog was flown in from Salt Lake City to check out the situation. So, we returned to MV with no place to stay.



Landscape view of Monument Valley


Thankfully, Gouldings (www.gouldings.com)a historic, but updated lodge, just across from MV had space available. The staff, all Navajo, were so gracious and accommodating that we stayed for two nights. Be sure to try the vegetarian Navajo taco in the restaurant!
Opps, I digressed from the story. Apparently the dog did smell something. All the luggage was taken off the bus and search by Utah and Navajo authorities, but nothing was found. Finally, the road was opened early the next morning. I was fitfully sleeping by then, but those poor English tourists ....

**********************************************************************************************



May 2013


Allan and I just returned from a two week photography trip in Northern Arizona. Since I can't tell you everything we did in a single blog, I am going to chat about our photo adventure over several months.


I have always been in awe of the majestic beauty of Upper Antelope Canyon, which is one of the most photographed landscapes in the Southwest. This amazing slot canyon, which is formed by sandstone erosion, is located on Navajo land near Page, AZ. In the Navajo language, the canyon is named "Tse bighanillni" - the place where water runs through rocks. Upper Antelope is at 4,000 feet elevation and the canyon walls rise 120 feet above the stream bed.
We took the 2.5 hour photographers "only" tour with Overland Canyon Tours (www.overlandcanyontours.com). This gave us the opportunity to take photos during the best times of the day, when the light comes through the canyon. Our Navajo guide was definitely the best. He knew more about camera settings than most of the photographers. And, he deftly snaked us through the non-photographer tourists to get the choicest unobstructed shots.
I really enjoyed the people on our tour too - a professional photographer from South Korea, an orchestra conductor, and a South Beach restaurateur.
Enjoy the views!







******************************************************************************************


April 2013

You have to go on an Arizona Highways photo workshop! I went on a two day program, "Wild About Wildflowers", and had an extraordinary educational experience with two outstanding photographers as my instructors. Okay, Allan is the real photographer, but after this class I could probably be one too.

Friends of Arizona Highways is a non-profit corporation founded in the 1970s, as an auxiliary to the Arizona Department of Transportation's famous magazine. The mission is to promote cultural, historic, and scenic wonders of Arizona through superior photographic education. Going to actual locations, having assistance in setup, collecting suggestions, and receiving critiques of your work are all part of the agenda,


Bartlett Lake AZ

The first day I went to Bartlett Lake, which is 45 miles east of Phoenix. With over 2800 acres of water, one could go boating, water skiing, or camping for the weekend. So, I digress. But, the area was festooned with wild poppies. I just kept taking digital pictures until I was exhausted.

The second day found me at the Boyce Thompson Arboretum State Park in Superior, which is an hour east of Mesa on Route 60. This is Arizona's oldest and largest botanical garden, founded in the 1920s by mining magnate Colonel Thompson. There were wildflowers everywhere. Definitely more than I could photograph.


Queen Valley AZ

From amateur to professional you can learn a lot at these photo workshops. Try one! www.ahpw.org



*********************************************************************************************



March 2013


Allan will be showing his photography in the Tohono Chui Park gift shop from March 11th - June 3rd. The Park is located in northwest Tucson just west of the corner of Ina and Oracle Roads on the north side of the road. For information go to www.tohonochulpark.org or call (520) 327-6444.


So, I thought that it would be a good idea to check out the Park grounds and report back to Allan! Tohono Chui Park (TCP) began when Richard and Jean Wilson purchased some land in 1966 and continued to add property and a hacienda until they had 37 acres. In 1979 they opened the Haunted Bookshop.
During the 1970s many developers attempted to procure the land. The Wilsons refused. The County condemned a piece of their property for road expansion. The Wilsons insisted that all the saguaros be replanted on their land. It was done.


And, the actual creation of TCP started. A minimal path was established, followed by signage for the plants, and then the path making began in earnest. TCP was dedicated as a non-profit foundation on April, 19, 1985. The Wilson deeded the land in 1988. They are now both deceased.


Today's botanical garden offers a connection with nature, art and culture. One can walk in the park while listening to a cell phone tour, attend an educational lecture, purchase desert plants, or enjoy lunch at the Garden Bistro and, don't forget the fabulous gift shop!


The Night Blooming Cerreus



****************************************************************************

February 2013

The art festival season is in full swing. Allan and I are very busy!


You probably don't consider the "behind the scenes" mechanics of the white tent city, while you stroll through the show enjoying the art. So, let me give you some of the details.


Putting up a tent is like building a house. First there is the aluminum rod skeleton, followed by the external canvas walls and roof, then the heavy weights which stabilize the structure, and, finally, the internal padded walls which will hold the art. That project usually takes 2 to 3 hours, depending on the weather conditions and the distance to and from your vehicle.

Then, the marketing phase begins. Depending on how many "walls" you have to exhibit your work on, you must decide which art will be eye catching and appealing to the passerby Each wall needs to make a statement. You usually have 5-10 seconds to command a person's attention which will make them stop to study your display further.


But, building the tent and exhibiting the art is just the prelude for the 2 - 3 day art show. From 9-5 you have to be "on" --- energized, interested in your potential client's questions, and be prepared to talk to the next person. Thank heavens, for the art show volunteers, who "exhibit sit ", while you scurry to the bathroom or take a lunch break.


And, then you get to take it all down (another 2 - 3 hours) and pack everything up in the trailer, so you are ready for the next show. A "good" weekend means covering your exhibit fee and travel/living expenses and, hopefully, making a profit from the artwork sold.


It is a definite way of life. We love it!

Booth at La Paloma indoor art show



Booth at St Philips Plaza outdoor art show



************************************************************************************************


January 2013


Allan and I had a great Christmas! We went to Santa Fe New Mexico. Here are a few highlights.
We hiked in two great parks.
*Tent Rocks National Monument (40 miles southwest of Santa Fe) is an amazing geological area that is comprised of layers of volcanic rock and ash deposits, which occurred from a volcanic eruption 6 to 7 million years ago. Weathering and erosion of these layers has created canyons and tent rocks. The tent rocks vary in height from a few feet to 90 feet. You can climb through a slot canyon to a variety of lookout points or take the canyon loop.


*Bandelier National Monument (a hour drive, close to Los Alamos) preserves the cliff dwellings of the Ancestral Pueblo people. Permanent settlements have dated back to 1150 BC. The main loop trail goes through Frijoles Canyon, which consists of pueblo home, kivas, and petroglyphs. If you want a energetic hike take the Falls Trail or the Frijolito Loop Trail.
The Christmas Eve holiday celebration on Canyon Road (www.canyonroadarts.com) is spectacular. The street and art galleries glow with hundreds of farolito lights (small, sand filled, paper bags illuminated with votive candles), luminarias (small bonfires), and twinkling lights. Carolers stroll amongst the crowds. Hot chocolate and cookies are plentiful. And, for us, it even snowed!
Don't forget to eat at some of our favorite restaurants - Zia (www.ziadiner.com), Maria's (www.marias-santfe.com) , Tomasitas (www.santafelunch.com, and Rancho de Chimayo (www.ranchodechimayo.com).



************************************************************************************************


December 2012



Allan and I decided to give 3 well deserving Tucson, Arizona organizations a proper acknowledgement during this holiday time of giving.
The Community Food Bank of Southern Arizona

www.thecommunityfoodbank.com (520) 622-0525
An organization. which was established in 1976, distributes 31,000 emergency food boxes monthly. The area population helped includes 40% children, 43% of the working poor, and 28% seniors. There are 6 food distribution centers in Southern Arizona. For each $1 contributed, $9 of food can be purchased.
Homicide Survivors Inc.
www.azhomicidesurvivors.org (520) 740-5729
This non-profit victim assistance program, which started in 1982, offers support, assistance, and advocacy to families and friends who have lost a loved one to murder. Coping with grief and trauma, assisting with financial concerns, and helping survivors seek justice are services provided. There is no charge to the survivors.
Youth On Their Own (YOTO)
www.yoto.org (520) 293-1135
This dropout prevention program, which began in 1986, supports the high school graduation of homeless, unaccompanied Metro Tucson youth ages 13 (or in 8th grade) through 21. It provides students with financial assistance, basic needs, and guidance as they work to obtain their diplomas. Over 10,500 students have obtained their degrees and become self-sufficient, productive adults.
Both The Community Food Bank and Youth On Their Own are on the Arizona Charitable Tax Credit program. Go to www.aztaxcredit.org for further details.
**********************************************************************************************
November 2012
Fall is here. Well, sort of. But, the sun and heat are now very tolerable for a poodle. Plus, it is fun to be out and about. Friends have just moved to Tucson and I thought it would be fun to introduce them to Bisbee, a quaint mountain mining town, and Tombstone, the home of Wyatt Earp and the Gunfight at the OK Corral.
Bisbee: We went to my favorite restaurant, Bisbee Breakfast Club (www.bisbeebreakfastclub.com), for great homemade food and Armando's delicious pies. (I personally adore the cherry.) Then we had to visit the Calumet & Arizona Guest House (www.calumetaz.com). This beautifully restored 1906 home is now an exquisite bed and breakfast. And, dogs are invited guests! Next we dashed down the streets of historic Old Bisbee. Visiting Belleza Gallery (www.bellezagallery.com) is a must. Not only does it have some super art and artists, but is owned and operated by the Renaissance House, which is a non-profit organization that provides its women residents the opportunity to make healthy changes in their lives. Be sure to take the numerous stairs from the main street, so you can see the funky houses and enjoy some interesting views.

Tombstone: Lots of locals wandering around in period costumes, including all the Earp brothers, who are the "law" of the community. The famous gunfight is reenacted several times a day. Restaurants and Western saloons, along with lots of cowboy themed stores, make wandering the wooden sidewalks of the historic town a fun diversion.

Tom and Maria in Tombstone
It is about a 200 mile round trip drive. Allan drove, while took my well-deserved beauty nap!
**********************************************************************************************
October 2012
Here comes another Allan dialogue raving about his recent fabulous trip to Butchart Gardens in Victoria, Vancouver Island, Canada. I would have done the honors myself, but I continued to be a prisoner-in-exile at home during his journey Oh well!
The gardens are truly a Disney flower land! From the moment you arrive on the grounds, your eyes are overwhelmed by the brilliance of nature. And with 65 professional gardens nurturing this 200 acre paradise, one is envious of the botanical perfection.
It started with Jennie and Robert Butchart in 1904 and remains within the family with their great granddaughter currently overseeing the operations. 2,000,000 people visit annually.
After you are visually saturated and digitally exhausted (at least I was), be sure to refresh yourself with a bit of Afternoon Tea in the Dining Room, which, of course, overlooks a private garden.
************************************************************************************************
September 2012
Hi, Max here.

This is Allan's story, since I forced to stay home and take care of the cat and my pet sitter.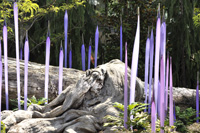 Seattle is a city of hills, fresh fish restaurants, fabulous public transportation ( ferries, light rail, a monorail), interesting architecture, friendly people, gorgeous parks and flowers everywhere. I am not going to chat about the gorgeous natural ones, but the extraordinary glass ones, which I viewed at the Chihuly Garden and Glass. It just opened this May and is located at the base of the Space Needle.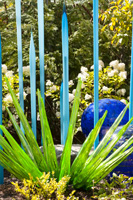 From the moment you walk into this 45,000 square feet exhibit, you will be in awe as you gaze at the brilliant colors and shapes.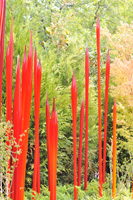 Your visual and mental amazement will continue throughout this show. Remember that everything that you will see is blown glass!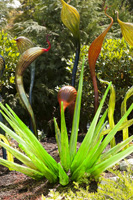 **********************************************************************
August 2012

It is muy caliente (very hot) in Arizona. So, why not go to the Phoenix area, where the temperature is hotter than Tucson? I told Allan he was nuts. No respecting poodle wants to get heatstroke. But, Allan promised me a lovely swim in Canyon Lake to cool off. I has hooked. We packed our gear and off we went.
We stayed at the Gold Canyon Golf Resort (www.gcgr.com), which is 35 miles east of Phoenix. We chose this place for lodging, because Allan got a great deal on a Travel Zoo voucher and he has been there several times before for golf. We got an amazing casita, with its own patio, and a fabulous view of the Superstition Mountains and the famous, "rough to play" Dinosaur Course. I was very happy to stay put in the very nice air conditioning.
But, bright, hot, and early the next morning, we were off to Canyon Lake. This lake is one of four lakes (Apache Lake, Saguaro Lake, Roosevelt Lake), which were created through the damming of the Salt River. Canyon Lake, which is 16 miles northeast of Apache Junction on Route 88, is the smallest, but probably the prettiest It is the gateway to the Apache Trail, which is one of Arizona's most scenic drives.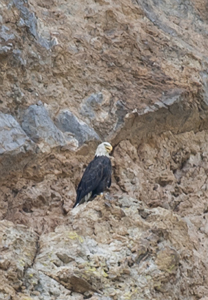 Then, Allan told that me we were going on a steamboat. The temperature was now over 100 degrees. I knew the heat had gotten to him!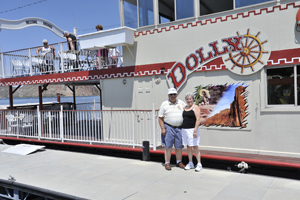 But, he was right. There was the Dolly (www.dollysteamboat.com). She is a steamboat, which looks just like a Mississippi paddle boat. For the next 1 1/2 hours we cruised the lake, while Captain Jim Grimh narrated the wonders of nature. Allan took pictures. We saw a bald eagle. And, Dolly was air conditioned. What more could a dog ask for.
I never did go swimming in the lake, but the resort sure has a nice swimming pool.
Allan is off to Seattle, Victoria (Canada), and Lake Powell, AZ in the next few week. He is going on a photo journey. I have decided to rest at home, in the air conditioning, with my very cute pet sitter and the rotten cat.
********************************************************************************************
July 2012
It's hot no matter where you go...
Rocky Mountain Columbine
So, Allan and I decided that a road trip to the Colorado mountains would be on the agenda. He could take pictures of wildflowers and I would hike and sit in the river. And, off we went to Breckenridge, which is my puppyhood home.
One little problem, Colorado had fires everywhere. Since mountains fires can be very scary, we were definitely apprehensive. So through the smoke we drove and when we reached 10,000 feet, blue skies and 70 degree weather greeted us. Were we lucky!
Appropriately named Elephants Head
One day Allan spent 6 hours photographing wildflowers at Shriner Pass in Vail. I was a bit breathless, since we were at 12,000 feet. But, the flowers were in full blooming glory. Allan was happy and so was I, as I rolled in the meadows, stalked fox and deer, and lapped up the cool creek water,
*****************************************************************************
June 2012
Allan and I have continued to talk about his Cuban trip in May. We were still figuring out the best way to describe the Cuban flavor, until we received an e-mail from Ruby. Ruby Layson, who was one of the tour group members, is an amazing "young" 84 year old retired journalist, who recently wrote an article on Cuba for her local paper. This woman has captured the true essence. Read and enjoy!
http://www.state-journal.com/news/article/5193402
****************************************************************************************
I guess I need to post my disclaimer up front. I didn't personally go on this trip, but through my owner's eyes I felt like I was actually there. Therefore, here are some snapshots, word wise and picture wise, of Allan's (and my) travels to Cuba.
Yes, we went "legally". Approximately 400.000 Americans go yearly, under licensed tours or programs. Our group was Witness for Peace (www.witnessforpeace.org). It was a "person to person" cultural theme. The Cuban people are warm, vibrant, and poor. We met with educators, farmers, artists, dancers, singers, religious and community leaders, doctors, and, my favorite, the assistant to the director (Raul Castro's daughter is the director) of human sexuality.
The U.S. Embargo. which was instituted over 50 years ago, has devastated this country. Why? There is no way for the Cuban people to obtain needed supplies, which includes everything from construction materials to medicine to toilet paper (You had better bring your own!)
Cars would be a good example of the problem.. There are only two categories -- American cars from the 50s and Russian Ladas and motorcycles from the 70s. There are no replacements parts You better have a good mechanic who can create miracles daily.
The Cuban people are ready for change. I hope that our visit may be a small step towards that goal. I will report more on my adventures at a later time.
********************************************************************************************************




April 2012
Allan and I went to Catalina State Park to photograph jillions of yellow poppies. But, when we got there (Dogs are allowed to visit if they have a leash.), we discovered so many other nifty things to see and do. The park is in Oro Valley, which is a community 9 miles north of Tucson.
This area has been occupied since 5000 BC, starting with the Hohokam people. The Romero Ruin (A great hiking trail takes you get there.) still contains rock pueblos and a Mesoamerican ballcourt, probably built around 500 AD. Francisco Romero built a ranch house on the "Romero Ruins" site in the 18th century, thus the name.
Several ranching families owned this property until 1971, when it was sold to an investment company, which planned on developing the ranch into a self contained community. After much citizen controversy, court challenges, and volunteer participation, the Park was dedicated on May 25, 1983.
Catalina State Park has numerous hiking and backpacking trails -- Nature Trail, Sutherland Trail, Canyon Loop Trail, Birding Trail. One can even connect with Coronado National Forest trails and continue hiking to Mount Lemmon, which peaks at 9,157 feet (My preferred way is by car via Catalina Highway.). In the Park, you can hike, bike, and even ride horses. Tent camping and RV sites are also available.
But besides looking at the amazing spring wildflowers and babbling streams, the Saguaro cacti are extraordinary. There is an estimated 5,000 plant population. Six large "stands", which are clusters, number close to 500 plants each. There are more saguaros in Catalina State Park than any other state park in the US.
With warmer weather coming, be sure to start your hike early, definitely if your dog is accompanying you, and bring lots of water, so neither of you become dehydrated. You can always cool off, by sitting in the stream, which I did.
*********************************************************************************************************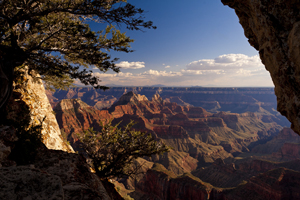 The Grand Canyon off of the Bright Angel Trail
March 2012
Good news, at least I think so, is that my Valley Fever is under control and I am almost back to "normal"! My veterinarian told me "no more digging holes or chasing ground squirrels", due to the potential fungus in the dust. At least, I am now able to be Allan's co-pilot for real estate appointments and art shows.


Along with the amazing wild flowers (Arizona Highways/ March 2012 issue), which are popping out everywhere (When there has been no rain, how does it happen?). the art shows are plentiful too. Allan is participating in two of them this month. His new canvas wrapped photos are fabulous. Be sure to check out his landscapes Here are the details on both shows.


Tucson Museum of Art Spring Artisans Market, 140 North Main Avenue in historic downtown Tucson. March 16 - March 18, Friday, Saturday, and Sunday 10 am - 6 pm Booth 102 FREE ADMISSION
Arts in the Plaza, Fine Art & Jazz Festival / St Philips Plaza / SE corner of River & Campbell in Tucson, March 31 & April 1. Saturday from 9 am - 4 pm, Sunday from 10 am - 4 pm FREE ADMISSION

If you have questions about directions or whatever, please call Allan's cell 520-820-5081. I really hope to see you there.

Wahweap Bay at Dusk, Lake Powell, Page, AZ


***************************************************************************************************************

February 2012


Between selling real estate and exhibiting at art shows with my owner, Allan, I am usually very busy. Recently, I haven't been accompanying him to any of these events. I have Valley Fever! And, after fighting this nasty disease for the last 60 days, I thought I should tell you about it, especially if you spend time in the Southwest.



Human beings, dogs, and cats can get Valley Fever!



VF is a systemic infection caused by a fungus. It grows several inches deep in the soil and spreads with the help of burrowing rodents. Add some wet weather, wind, and dust storms, and this mold can travel great distances and go directly into a vertebrate's lungs. The spore then multiply and spread from the lungs through the bloodstream to other organs.



Early symptoms often seen in the initial stages are a dry. harsh cough, a fever, depression, and lack of appetite. Symptoms usually occur about 3 weeks after the initial infection.



What can be done? There are antifungal drugs, with fluconazole (Diflucan) currently being the most popular, due to the minimal side effects. The good new is the most humans and dogs, with appropriate treatment, do recover from this disease.



Valley Fever is not contagious to other pets or family members. A person with VF cannot infect another person or a dog. A dog with VF cannot infect another dog or a person.



***************************************************************************************************************************************************************************************************
Friends and family came to visit me in December. They like to do the " tourist thing", so I obliged. Here are some of my favorite local sights, which are some great places to visit in Southern Arizona.
Mission San Xavier del Bac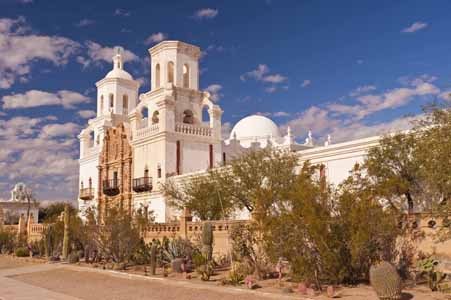 This is a national historic landmark, which was founded as a Catholic mission by Father Eusebio Kino in 1692. Construction of the current church began in 1783 and was completed in 1787. Today restoration is a constant project. www.sanxaviermission.org


Tumacacori National Historical Park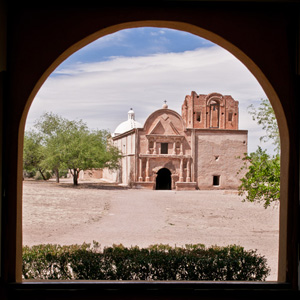 This is the home to three Spanish colonial missions, which are in various stages of renovation. There is also a lovely courtyard and museum. www.nps.gov/tuma/index.htm Be sure to try the Mexican restaurant Wisdom's Cafe (www.wisdomcafe.com) which isjust outside the park.



Tombstone

It was founded in 1877 by a prospector, who named it after his first mine. But, the famed "Gunfight at the OK Corral", which was been immortalized in books and movies, is why people visit this old Western town. www.tombstoneweb.com

Bisbee
Also founded in 1877, this quaint mining community produced over 8 Billion pounds of copper, along with silver, gold, and zinc. Today it is a artist community where the Victorian architecture and cultural heritage has been preserved. Lots of stores and restaurants to visit. www.cityofbisbee.com


Tanque Verde Ranch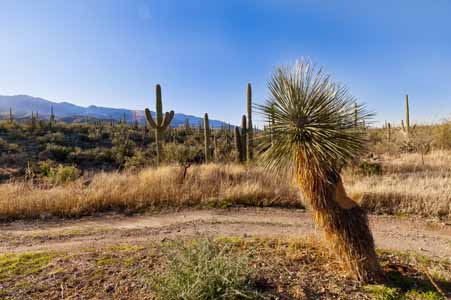 Started in 1868, today it is a premier dude ranch, which has tastefully captured the spirit of the Old West. The views of the mountains and saguaro cacti. Do make reservations for lunch. www.tanqueverderanch.com



*****************************************************************************************************************************************************************************************************
December 2011


I have been helping Allan with his trips on the art show circuit for the last month. It is quite exhausting. You have to set up the tent, hang the pictures, be nice to people all day long (that is rough for a guy who likes to take naps), sell lots of photos (we did pretty well), tear down tent, and finally, go home. We went to the Continental Plaza Fine Arts and Craft (Green Valley, AZ), the 37th Fountain Festival of Arts and Crafts (Fountain Hills, AZ) and the Holiday Artisans' Market at the Tucson Museum of Art (Tucson, AZ). We lucked out on the weather - not too hot, not too cold. If you would like to see some of Allan's new work, go to

www.SouthWestArtPhotos.com

.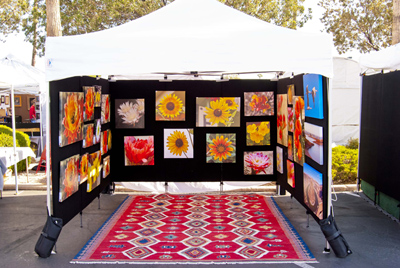 *****************************************************************************************************************************************************************************************************

November 2011


One of my trips this summer was to a working ranch (www.doubleeranch.com) in Gila, NM. The drought in the high desert was obvious, but Allan was still able to photograph a great panoramic view of the vast ranch land and some amazing daisy close ups in Silver City, NM (www.silvercity.org), which is a visit in itself.



My favorite part of the trip, when I wasn't chasing rabbits, was the visit to the Gila Cliff Dwellings National Monument (www.nps.gov/gicl/). The Mogollon people lived in these dwelling between 1275 and 1300 AD. 46 rooms have been discovered in the 5 caves. Archeologist believe that 10 to 15 families occupied this site. It is not known why it was abandoned.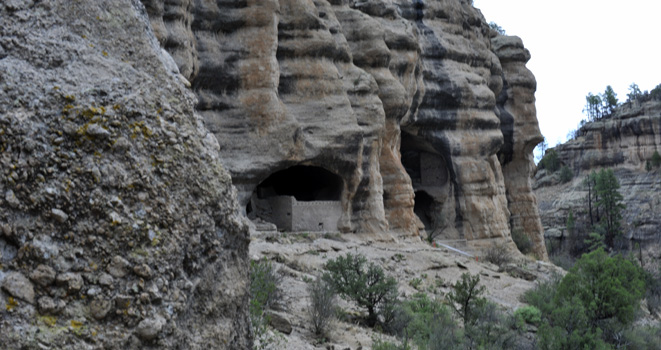 Even though it requires a mile hike up to the site, somehow it was determined that dogs would not be allowed on the trail. So, Allan and the park rangers corralled me into this enormous outdoor cage, one for each dog, complete with bed and food. Nice accommodations, but not what I had expected for a day outing. To let everyone know about my displeasure, I howled the whole time Allan was gone. What did you expect?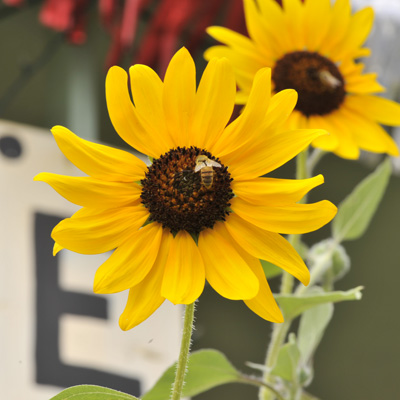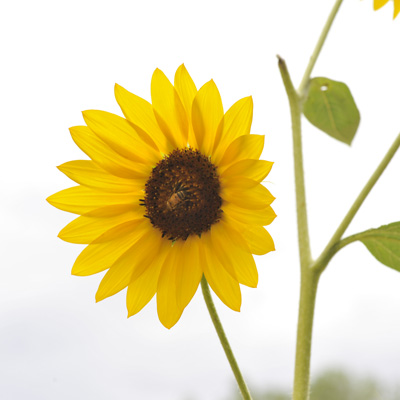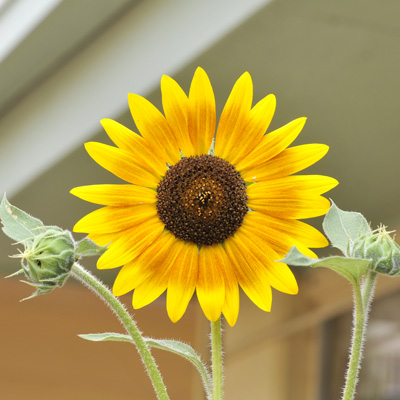 ****************************************************************************************************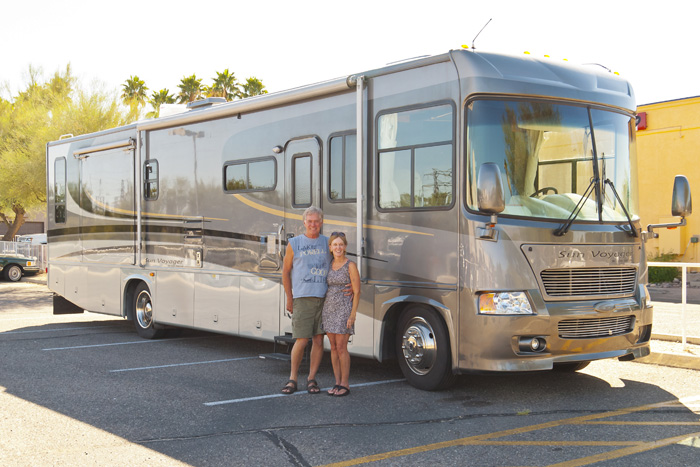 The summer is truly gone and I have just finished my travels. Well, I almost went everywhere Allan did, except for the month long RV trip to 10 National Parks and 4 National Monuments. Apparently the federal government is not keen about dog attendance. So, I thought that I would lounge around at the RV park during the day, but Allan pointed out to a howling incident which occurred earlier this summer, so I was told I had to stay home. Such is a dog's life. But, my University of Arizona student pet sitter was the best.



I did go to Solana Beach, CA which is 15 miles North of San Diego. Lots of good beach stories to tell you..


And, then on to a real cowboy working ranch in Gila, NM. The howling incident occurred at the Gila Cliff Dwellings. I will discuss the fascinating Indian dwelling and my indiscretion later.


In August I went to Sebastopol, CA, which is in Northern, CA, to visit my dog-in-law and enjoy the grapes of Sonoma County. Lots of flower pictures were taken.
And, then there was the RV trip....


Throughout the summer Allan photographed like crazy. I was his photo assistant. So, in the next few months, I will discuss our adventures, since Allan will be very busy selling real estate and showing his gorgeous flower photos at the local art shows.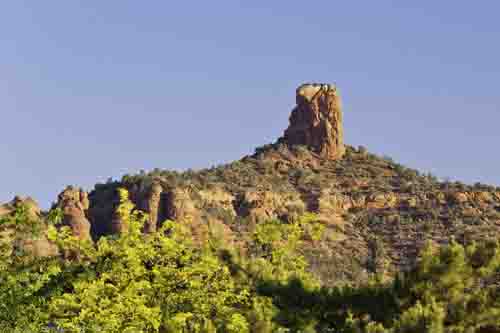 ******************************************************************************************************************************************************************************************************



This Summer (June, July, August, and, maybe, September) 2011



I am going to be traveling frequently in the next 3 to 4 months. Some family. Some friends. Some fun. Mainly, I will be my owner's photo assistant, as Allan moves around Arizona, New Mexico, Colorado, and California photographing scenery and flowers. I will upload pictures to my blog during our journey.



If you need to reach me, Allan's cell phone, (520) 820-5081, or e-mail, Allan@AllanMJohnson.com, is the best way.



I hope that you have a great summer too!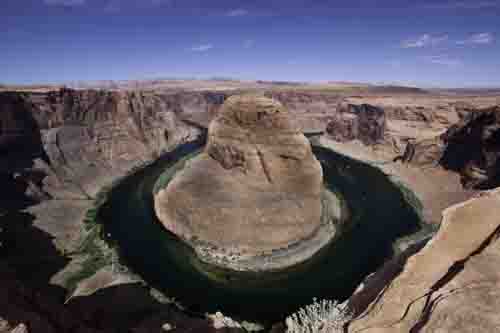 ******************************************************************************************************************************************************************************************************


Recently, my owner was exhibiting his photos at the Tucson Museum of Art's Spring Market. It was 3 days! First, he didn't even have time to walk me the weeks before the show, because he was either showing houses to potential buyers or getting his booth ready. Likely story! During the show he gave all his attention to the art browsers and potential buyers, so again he had no time for me.

Thank heavens I always have backup walkers available. Oh, the show was big success, he sold lots of pictures.


Then Allan springs "I am going to Texas for a week." on me. Of course, I knew I would be included. And, I almost was. But, then these nifty kids and their parents said that I would get all of their attention - okay, a little for the cat - if I stayed in Tucson. How could I say no?



But, I demanded a daily update on my I-phone, so it was almost like being there.



A great time was had in Austin. Allan stayed at the 1110 Carriage House, which is a bed and breakfast on the outskirts of the University of Texas. The LBJ Library, the Lady Bird Wildflower Center, the 80,000 square foot Whole Foods (it started here), the botanical garden, the lake walk, and Ruby's (the most amazing barbecue place) were a few of the spots he visited.


Then off he went to San Antonio. The city was having an amazing 10 day fundraising event called The Fiesta. There were lots of fun activities to go to, especially the Mexican Rodeo! The Alamo, the Riverwalk, and the fabulous historic district were places not to miss. And, the Ruckman Haus, probably the best bed and breakfast ever, is not to be missed.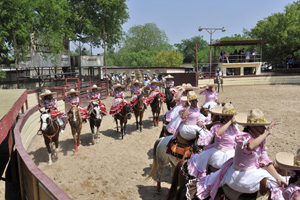 In Hill Country, Allan enjoyed a hike at the Guadalupe River State Park. Afterwards, he wandered through some of the quaint German styled towns, before he went on a tour of the LBJ Ranch.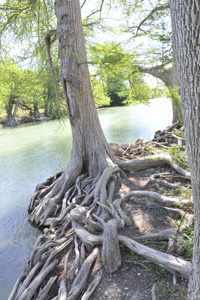 He finally came home and life settled back into my normal doggie routine.
******************************************************************************************************************************************************************************************************


I had the most amazing birthday. Well, it wasn't my birthday, but I vicariously enjoyed Allan's, who is my owner That lucky dog went to the DriveTech Racing School at the Chandler, AZ Firebird Raceway. His present was found on Groupon.com. (If you haven't signed up for this national program yet, do so today. Monday through Friday there are some amazing "deals" offered. The only catch is that you must decide the day of the offer or otherwise it is gone.)
After Allan took classroom instruction and was fitted for a helmet and firesuit, he and a professional instructor went on to the speed track in a Porche Boxter, with a manual transmission. After four practice laps, the instructor left and Allan took over the reins of this professional stock car. He was able to reach speeds of 95mph, but slowed down in the curves, since controlled skids can be a bit scary.
He is certainly the TOP DOG in my dog house!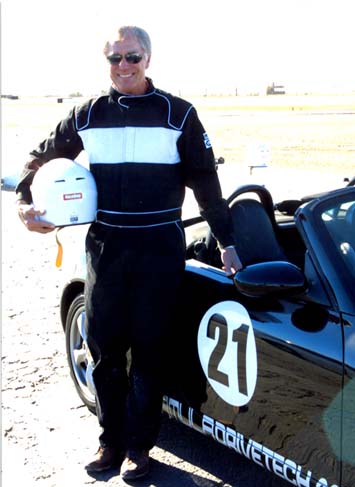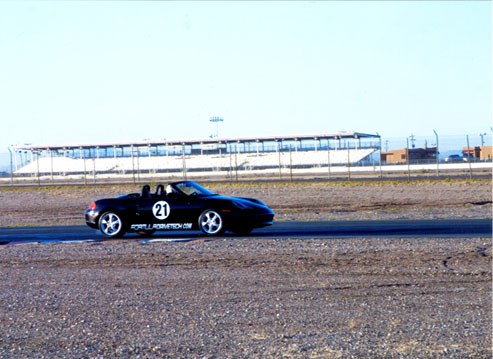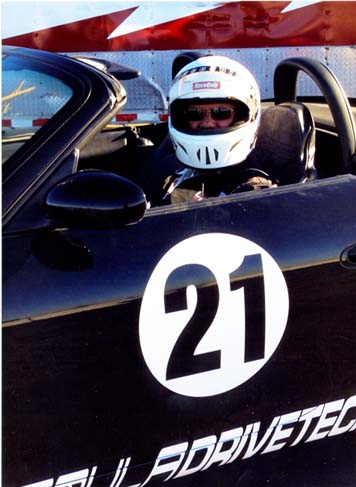 P.S. The answer for the current postcard is in the "February 2011" blog posting.
**************************************************************************************************************************************************************************************************


Last weekend I had the privilege of taking a photography workshop with Jeff Kida, who is the Photography Director of Arizona Highways Magazine, which I think always has the most amazing Arizona photos. After classroom instruction, we went to the Phoenix's Desert Botanical Gardens (http://www.DBG.org) for a full day of "shooting". There was lots of helpful critiquing. And, now I understand the importance of the effects of light on your subject. If you want to really improve your photography skills, as well as having a great time, be sure to go to http://www.FriendsofAZHighways.com and see their varied offerings.


Okay, I have to show some of my pictures. Hope you like them.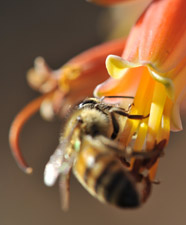 While I was focusing on the bloom, this bee flew in for a meal.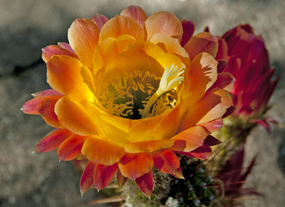 This one was shot in a neighborhood cactus garden.



************************************************************************************************************************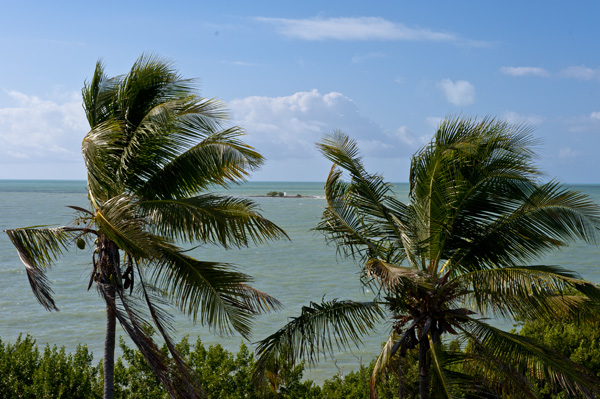 I went to Florida over the holidays. It was officially to the Florida Keys, where I spent several days at a funky, slow placed, 1950s feel resort. The price is right. There is a large private beach. The units have kitchenettes, screened in porches, individual patios, and ocean views. And, here is the best part, dogs are permitted! If you want a nice, reasonable priced, Florida vacation, go to The Islander in Islamorada, Florida (www.islamoradaislander.com).


After the extended family packed up, I treated myself to a couple of days in Miami Beach. It was sweet.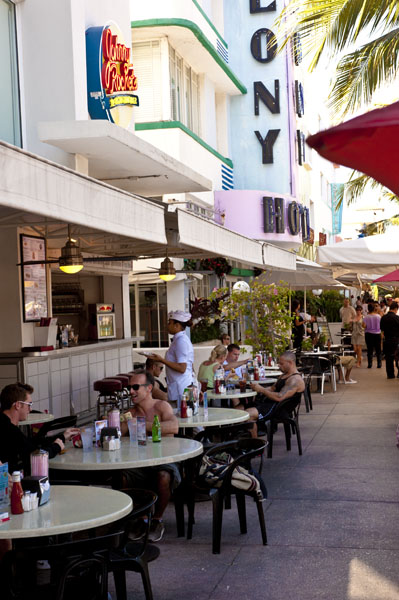 I toured South Beach, which is an amazing beach neighborhood. Starting with its development in 1910, this area has experienced years of enormous popularity or complete depression. Today, it is considered one the wealthiest and most prosperous beach areas. Lots of renovated art deco hotels, a jillion nifty places to eat, and people and dog watching galore. Enjoy the pictures I snapped!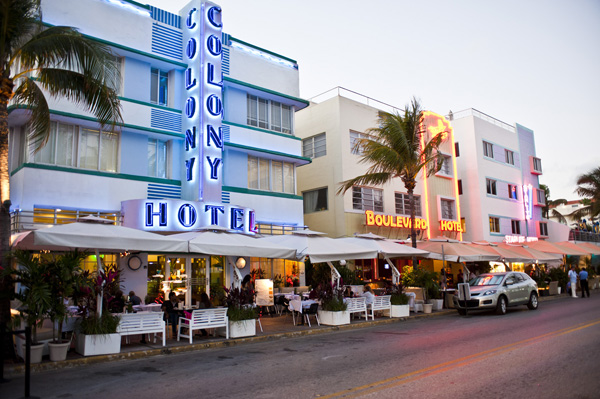 While in Coral Gables, I fell in love with Vizcaya Museum and Gardens. It was the winter residence of an American industrialist, James Deering, who lived there from 1916 until his death in 1925. It was built to appear as an ancient Italian estate. It has 34 decorated rooms with 15th through 19th century antique furnishings. Of course, it also had all the latest in technology. It is on an extraordinary piece of ocean front property. (At one time, it was 180 acres.) Classy opulence is the best way to describe this "home".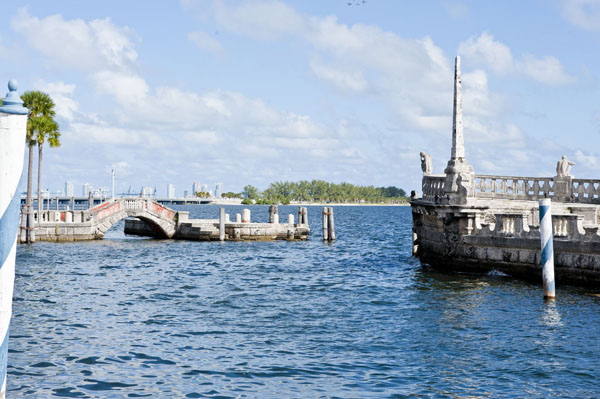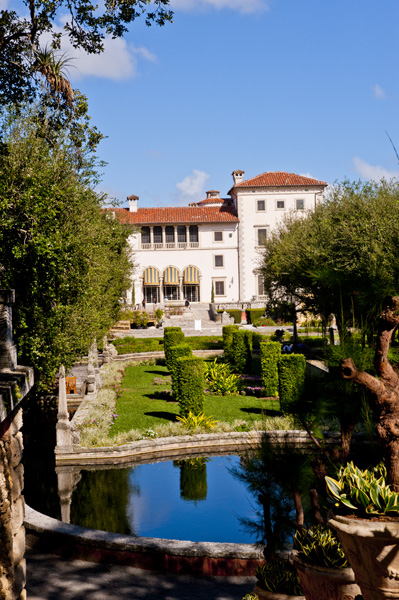 But, it is the amazing expansive gardens, which combine elements of Renaissance Italian and French designs, which will make your linger. The fountains, flowers, terraces, and statues are fabulous. Be sure to save a couple of hours for the guided or self tour. Enjoy!


******************************************************************************************************************************************************************************************************


Montezuma Castle is located near Camp Verde, AZ ( Exit 289 on Interstate 17). The site features well preserved cliff dwellings of the Sinaqua people, who lived there in the early 1300s. The castle, which is really a multi-family, prehistoric, high rise apartment complex, has five stories and 20 rooms in a recessed area, which was carved out of the limestone cliffs. For unknown reasons, the Sinaquas abandoned their habitat in the 1400s.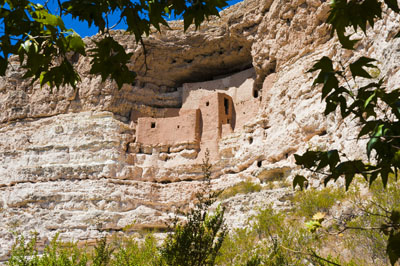 The horses are names CJ and JJ.

The Palatki site also has Sinaqua cliff dwellings, which were occupied between 1100 and 1300
AD. The area's largest panels of rock art represent several different native cultures. The
visitors center is located in a historic ranch house, which was built in the 1920s by homesteader Charles Willard.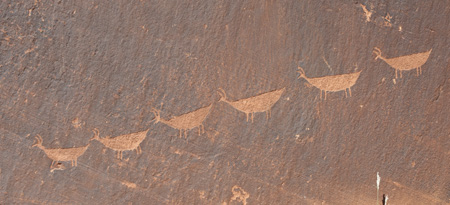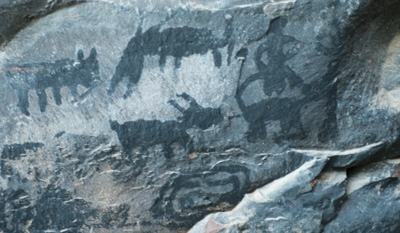 ****************************************************************************************************************************************************************************************************
September 2010


NONE

************************************************************************************************************************************************************************************************
August 2010
A Day in the Clouds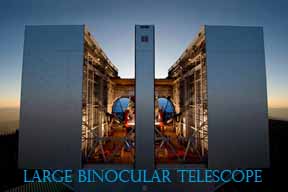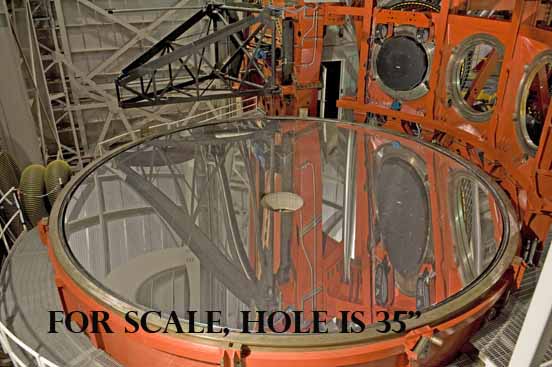 A couple of weeks ago, I went to the

Mt. Graham International Observatory

, home of the Large Binocular Telescope. My buddy, University of Arizona, Professor Richard Green, invited my owners and me to tour this amazing facility He is the head honcho.


Getting there was half the fun. From my Tucson neighborhood, it takes about 2.5 hours to reach the town of Safford. Then it is another hour up the 20 mile paved and dirt road, which has lots of switchbacks, to reach the top - 10,720 feet.


Dr. Green said that the concept of this $120 million telescope was conceived in the 1980's. The actual building of the telescope and observatory took place in the 1990s and 2000s It was dedicated in 2004. Today it is in full operation with national and international scientists visiting and working at the facility.


"The telescope takes the sharpest pictures yet of deep space from Earth with a new system that provides a level of clarity never seen before. It has delivered images three time sharper than the Hubble Space Telescope. The technology relies on adaptive optics - a mechanism that allows a telescope's mirror to bend in order to compensate for the blurring of light as it passes through the Earth's atmosphere." (Christian Science Monitor, June 17, 2010)


It is a very long driving day, but definitely worth the time. Don't forget to bring lots of treats!


P.S. Sharon (your HOA President) and Mark (supreme soccer umpire) McCausland are the proud pet owners of Oz, the Bernese Mountain dog, and Rusty, the orange feline. Enjoy your gelato.

************************************************************************************************************************
July 2010
I am waiting for the monsoons. Have you seen them?
At the end of June, my owners and I decided that it was getting too hot for us to hang around here. We quickly "found" a cat sitter for Bonita, who doesn't like water, and off we went.
A friend of ours, Becky, generously lent us her 25 foot pontoon boat, which is dry docked in Roosevelt, AZ. From Northeast Tucson, we buzzed up the scenic route, Highway 77, and arrived there in 3.5 hours. We hitched up the boat and off to the Roosevelt Lake Marina we went. We were really challenged finding the boat ramp, since there were no signs. We finally found a dirt road leading to it, but were quickly dismayed when we saw the jagged, broken cement. Allan tried to back the boat trailer down the disabled ramp. No luck, too shallow. After asking around to a variety of uncommunicative people, who were camping on the shore, someone suggested the Marina tractor. Since the Marina is on floats and the only way to reach the Marina, without a boat, is a very loooong hike on floats. Hey, it was only 102 degrees!
After our heated hike, life got much better. The Marina guys pitched in, got the tractor, assigned us a slip for overnight, and the boat got launched. A mere 3 hour process.
It was brutally hot, even on the water. But we quickly dove in and were finally cool. I was ecstatic. I do a great dog paddle!
We decided to stay in Globe, 33 miles from the reservoir, and booked a fabulous bed & breakfast. It is called the Dream Manor Inn (DreamManorInn.com / 928-425-2754). It has the feel of an Italian Tuscany compound. Carl and Rebecca William's place is on top of a hill, which gives you a 360 degree view of the area. There is a pool, lots of places to sit outside (in the shade), great rooms, and a super breakfast. The price is right. Read the reviews on TripAdvisor.com. Oh, Ace and Minnie are the resident dogs. They are fun to play with!
The next day was cloudy. No sun, low 90s, and no one was on the lake. We had a grand time. I think if you go to Roosevelt Lake in the Spring or Fall it would be perfect.

The morning we left, we walked around Globe's historic downtown. There is some interesting
architecture to check out. Don't forget to go to the Besh-Ba-Gowah Archaeological Park. It has pre-Columbian Salado ruins, which you can wander around in.

Overall we had a nice 3 day/2night, "catless", only me and my owners' getaway. What more can a dog ask for?

************************************************************************************************************************************************************************************************
June 2010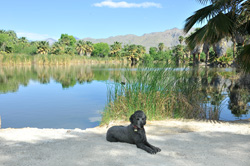 It's June and this is my second hot summer in the desert. I have always enjoyed my morning walk, but now I am dragged out of my comfy bed at 4:45 a.m. to get my constitutional over before the hot sun starts rising. And, this is the point I want to make. Don't leave your pets in the car during the summer. There is an Arizona Revised Statue 13-2910 which backs me up.


As I told you last month, my masters went to Lake Powell. The cat and I were left behind with the sitter.
She is a retired policewoman, who watches our every move. Glad she was patrolling the cat the other day, since a bobcat appeared on our back wall and was considering Bonita for breakfast She also lets me sleep with her on the bed at night. A definite no-no when the masters are around.


Allan took some great pictures at Lake Powell. I am not going to bore you with a jillion digital photos (I think that is how many he took.), but here are the 3 which I like.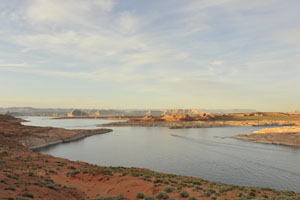 Wahweap Bay


This is in Page, AZ. Lake Powell is the second largest man-made reservoir in the United States. Lake Meade, NV is larger. It straddles the border of Utah and Arizona. Glen Canyon National Recreation Area is an amazing place to explore.


On May 30, 2010, this National Monument celebrated its 100th birthday. It is the world's largest naturalbridge. The Navajo Nation has long held this bridge sacred. President Theodore Roosevelt and the writer Zane Grey have been among its visitors.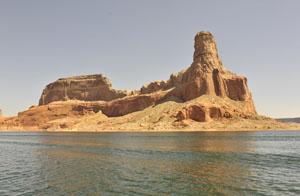 Tower Butte



At least that is what I think it is called. This rock formation is only one of the many amazing rock formations along the 1960 miles of shoreline which has more than 90 major canyons to explore.


*************************************************************************************************************************************************************************************************
How can it already be May?



I just said goodbye to the last of our Spring house guests. This means that the hot weather is coming. I assume that no one else is anticipated until the Fall. House guests don't like the REAL hot weather here. As I and the cat did not participate in any of these festivities, we were stuck with a "pet sitter", I can only assume that humans enjoyed their numerous activities like eating, hiking, eating, sightseeing, eating, etc. You get the picture.



Oh, I freaked out when I found out that our "pet sitter" had written notes about me to my owners. The cat was snitched on too. Here are some examples. "Max greeted me at the door with a big hug. He is such a sweetheart." "Bonita purred and rolled over for a belly rub." "Both fur kiddos are great". Not a bad report from the human spy. And, my humans didn't even figure out how devious pets can be!


My owners are going to Lake Powell at the end of the month. Even though swimming is my FAVORITE activity EVER, I am, of course being left behind. Mumblings of the weather being too hot, my lack of interest in being in the car for long, boring, driving hours, and my consistent need to be entertained were apparently the factors in their decision. Oh well, who cares about buzzing along on the lake at one of the most beautiful places in the states (Glen Canyon. It is just like the Grand Canyon except that it's half full of water.)



***************************************************************************************************************************************************************************************************
April is here. Spring is here. Many, many gophers are here. And, a poodle has only so many hours to chase them. Sleep is still my top priority. Hey, I am a dog!


So, I asked my owner, Allan, to go to the back yard and take some pictures of our Spring flowers. This is much easier than driving around the state trying to find all the If you must see them, click on this

Arizona Highways

to find a comprehensive Arizona wildflower directory. wildflowers.


As you are viewing the flower pictures, I do want you to note that two of the pictures are of me. The yellow field of flowers certainly compliments my fluffy ears. But, I prefer the one of me lounging under the 11 foot umbrella, which I am fairly sure that my owner bought just for me. Oh, there is also a picture of the cat, Bonita. She nagged me forever for this photo opportunity. You know how felines are.


And now for a very important furry announcement! Tucson Originals (http://www.tucsonorginals.com) is Puttin' on the Dog to benefit the Humane Society of Southern AZ - Friday, April 30th, 5:30-9pm. Tucson independent restaurant owners run a fun-fill extravaganza to raise money for the homeless animals in my community. Go to their website for all the details. It is a definite calendar event for all pet lovers!